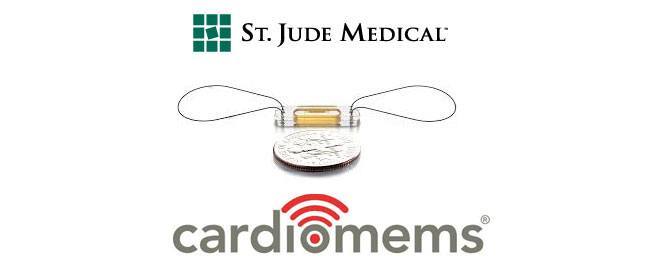 In late May, St. Jude Medical, a global medical device provider, acquired wireless heart monitor provider CardioMEMS. At $450 million, the deal was the third largest transaction in Healthcare in Q2, and added the first and only heart failure monitoring device approved by the FDA to its cardiovascular portfolio.
The purchase of CardioMEMS suggests St. Jude is pushing toward a greater focus on remote patient monitoring. In a recent investor presentation, St. Jude detailed its goal of using devices to reduce healthcare costs associated with chronic and epidemic diseases.
"St. Jude Medical's acquisition of CardioMEMS shows our commitment to providing innovative medical device solutions that reduce the burden of complex diseases…on patients and health care systems," said Daniel J. Starks, St. Jude's president and CEO, in a statement. "The CardioMEMS HF System…reduces hospitalizations and improves the quality of life for patients".
The device took six years and more than $100 million dollars to make it past the FDA approval process, with St. Jude seeing its early potential and investing $60 million (for a 19 percent stake) in the company in 2010. The heart failure sensor device is implanted into the patient's pulmonary artery using a catheter-based technique. Following the procedure patients perform wireless measurements from home and the pressure data is sent via a secure database to the patient's physician or nurse for monitoring.
Remote patient monitoring, especially mobile monitoring, will be a key growth market in the Internet of Things medical device sector, and St. Jude is poised to capitalize on this opportunity. Traditional healthcare costs associated with the heart, spine, and chronic pain are extensive, highlighting these markets as prime opportunities for patient monitoring solutions. Patients who opt for monitoring devices over frequent in-person doctor visits will lower overall healthcare costs, as doctors will be able to check in on progress and read patterns in the data generated by these devices.