Keiichi Matsuda's Prism
In the TV show "Alphas," there is an autistic character named Gary Bell who is able to see and access all the invisible digital data streaming through the air around us. It seems like science-fiction, but Designer and Filmmaker Keiichi Matsuda has taken the invisible and made it a visual arts installation at the cupola at the top of the V&A Museum.
Matsuda uses data compiled from UCL CASA'sCityDashboard and other London open data sources (energy use at 10 Downing Street, wind speed, energy consumption, internet traffic, Thames water level) and with the collaboration of interactive artists and programmers, created a visual medium that displays the information in real-time on an aluminum and paper sculpture called Prism. The data streams are projected through visual interpretations onto the various 47 geometric shaped panels formed by the structure.
Joseph Beuys said, "Great Art... doesn't force itself on you at all, but rather completely merges with its context, almost vanishes in nature. A Greek temple basically says that the olive tree standing beside it is much more beautiful than it is; and, vice versa..."
By integrating the invisible community of London with the visual landscape above the cupola of the V&A - giving visitors a panoramic view of the city amidst the digital visual display of the city - Matsuda touches on the Great Art to which Beuys refers.
Prism is open to the public through September 28, 2012 and you can learn more about the artist by visiting his site, or following his latest posts.
Additional Resources:
Image Credits: justinpickard, Keiichi Matsuda

Via: Oliver O'Brien
Featured in Channel: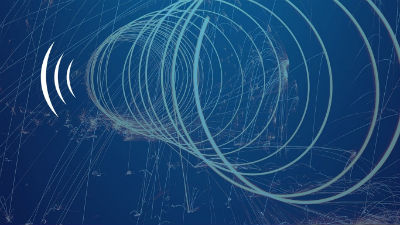 IoT Art - Real Time Networked Art Installations
A spotlight on the products and companies
View