Swimming pools may not be at the top of your mind in the middle of winter, but San Francisco startupSutro is hoping you'll think ahead to the summer months and consider updating your pool monitoring system with smart technology.
The company's floating, cone-shaped device tests the chemistry of pool water and reports metrics like pH, chlorine levels, temperature, and dissolved minerals. It also includes a UV light sensor.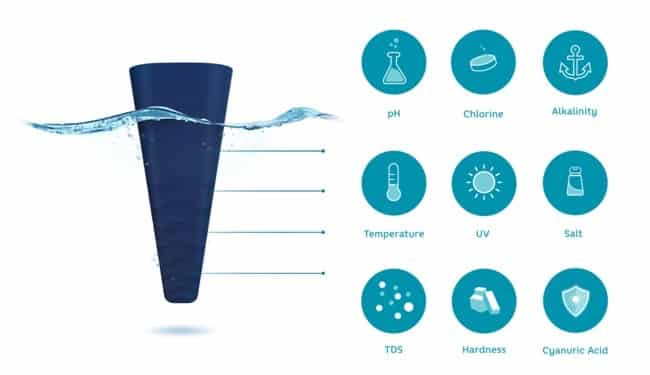 Sutro has been designed for all kinds of pools, hot tubs and spas — indoor or outdoor, in- or above-ground, even salt water — as long as there's a Wi-Fi connection in range. It runs for about six months on replaceable batteries.
A cloud service analyzes the data and pushes alerts to Sutro's mobile app whenever the pool's chemistry needs attention. It will even give simple instructions for how to "dose" the pool back into balance with various treatment chemicals. Users will be able to order replacement chemicals through the app, but the company says that's just an optional, "pay-as-you-go" convenience; it won't lock users into a subscription plan. It's also building a network of Sutro-friendly pool technicians.
Sutro received seed funding from Bolt, and additional investment from Amazon's Alexa Fund, which supports the integration of Amazon's voice-recognition technology into smart products. The company is currently taking pre-orders, and is hoping to ship by summer 2016.
Related: Floating Sensor Network, NUSwan, Smart Pool Control, WaterCanary