---
First off, can you give us a little background on Seluxit?
Seluxit was founded in 2006 by myself and my partner Morten Pagh Frederiksen when we started working with smart metering and home automation. That was before anyone aligned those concepts with the Internet of Things. Our growth has been completely organic without any outside investment, and we've been rather conservative. In fact, we've turned a profit from day one, while we've witnessed many of our peers bloat up with VC funding only to suddenly disappear.
Now in 2016 we're on the third generation of our IoT platform and have a real voice in driving application-layer Web of Things standards at the W3C under the auspices of RWE (a large German utility company) and the Lemonbeat protocol we've developed with them. It's a great achievement for a lilliput company like ours to be sitting at the table with the likes of Huawei, Cisco, Ericsson, Samsung, Microsoft and Google and point to our specification draft solving problems that we all agree we have.
So we have a long-term technological vision of the IoT, but for the time being we're concerned with helping companies develop smart, connected devices. Our end-to-end services cover the gamut of IoT from hardware development to data management to the user interface.
Larger companies appreciate working with a single point of contact on a larger project, and appreciate the responsiveness an agile company of our size can offer. So we're a small company with big ideas and big customers.
Can you elaborate on your IoT vision?
There seem to be two camps when you consider the Internet of Things. On the one hand you have the optimists – the prognosticators with impossibly high numbers (the 'according to Gartner' crowd), the futurists armed with infographics elaborating on how the Internet of Things will revolutionize the way that we organize our society, and businesses scrambling to position themselves to make money on these opportunities in what you might describe as an IoT land grab.
But on the other hand you have the naysayers. They'll point out that while money is being pumped in to IoT armament, the yields aren't there. They'll also address a list of seemingly insurmountable problems involving security, privacy, standards, underutilized data, business model stagnation, and the like. In many instances, these naysayers are our potential customers with cold feet.
So from our point of view, we know the direction we want to go and in the meantime we're focusing on innovation as we're doing our work one day at a time.
The thing that many generalists don't realize, is that the lack of accepted standards for IoT is a real problem that stems from the fact that the IoT presents us with challenges that we haven't had before. That's why you see so many offerings on standards. And that's a positive thing, at least for the patient soul.
Sometimes we find ourselves talking about driving standards, but we shouldn't have any illusion of control. No one group has control. But just because we don't have control, that shouldn't stop us from innovating and developing our ideas constructively.
So what ideas and results are Seluxit contributing to that vision?
While the number of things on the Internet is steadily increasing, the big breakthrough has still not happened. There are many reasons for this, but one major problem is that things don't speak each other's language. It's simply not enough that they can talk with each other if they can't understand each other. So much effort has been put into transport layer considerations and too little pressing the semantics of the application layer, which is still up to the vendor of the device.
While we're innovating on many fronts, notably regarding security standards in constrained networks and innovation in UI and UX, the topic of device interoperability is a major theme that underpins our whole approach to IoT development.
Our premise is that even the most constrained of IoT devices should be IP addressable and host a dynamically configurable, standardized application layer. This is the outset for our development of the Seluxit IoT platform as well as our complimentary work on the Lemonbeat protocol.
In addition to our work with Lemonbeat and the W3C, we've also recently joined the AllSeen Alliance and we're planning on integrating AllJoyn Framework into the WiFi stack we're currently building. The AllSeen Alliance is committed to solving the issues of device interoperability, but our involvement isn't religious. Honestly we like some of the solutions they have, and because they're an open-source project, we're equally as interested in influencing developments as utilizing their existing code base.
What's next for Lemonbeat standardization?
The goal of creating a universal language for the Internet of Things is clearly ambitious, and that's because the problem of device interoperability requires vision and action to solve. But the standardization processes cannot be described as revolutionary, so there is still a long path ahead.
The Lemonbeat application-layer standard is now open to scrutiny and is receiving input as it continues its development. In particular, the relation between Lemonbeat and CoAP is solidifying, so we can expect to see a maturing and further development of the specification which will take the form of a revised specification draft in some months time. In the meantime there are several ongoing projects implementing Lemonbeat, and more to come.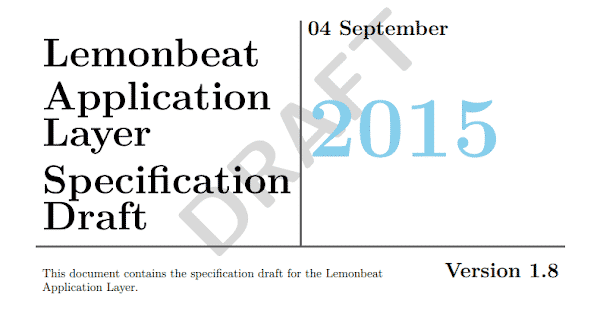 How about your bread and butter?
Of course, nobody is standing around twiddling their thumbs while they're waiting for the standards streams to converge. There's work to be done, and we have our share of work. We're not trying to eat the elephant, it's a bad metaphor because nobody knows what the IoT will look like in 5 or 10 years. Instead, the message for our customers is start simple on a solid basis and build from that. A company might not be able to anticipate what smart features will appeal to their customer base and they might not be able to leverage their product-usage data today, but that shouldn't stop them from building a connected device with an initially small and manageable feature set and start collecting data for down the road.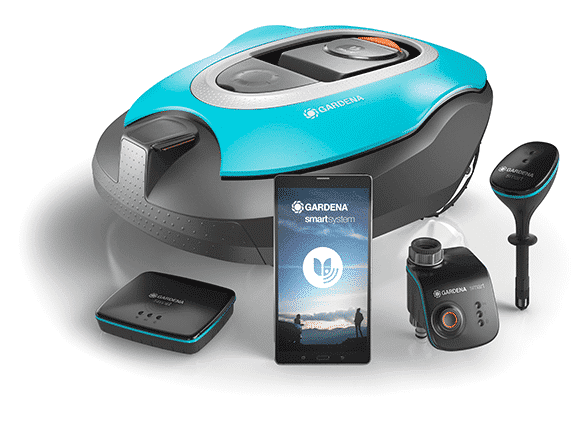 Our most recent result has been our work for the German company Gardena (owned by the Swedish Husqvarna Group) on a smart-garden solution. The smart-garden suite has been available in the DACH and BeNeLux regions since April of 2016. Our involvement with hardware development and implementing the protocol and platform has a very simple task of coordinating the scheduling of a robotic mower and a watering computer for a sprinkler system in conjunction with a humidity sensor.
The current system is rather simple, but because we can update over-the-air, we are continuing to develop smartness in the solution and will incrementally deploy it in the field for Gardena's customers. We're using the Lemonbeat protocol on the project, which is a very effective protocol that solves some of the special problems of this use case. Because many of the devices are close to the ground, the reflection of the wireless signal is a significant obstacle, so achieving a long range was critical and very successful with Lemonbeat.
Can you elaborate on over-the-air updates and how your team views this continuous improvement capability of connected products either from a technical or business/data side?
Over-the-air (OTA) firmware updates is one of the essential and fundamental wins of transforming a conventional product into a smart, connected product. The smartness is in the software, and products that can be updated over-the-air will have the competitive advantage.
OTAU can represent a major savings in after-sale support and increased customer satisfaction. Instead of recalls and physical service visits, fixes are delivered seamlessly and locally. That's a win for both parties. Think if the Volkswagen diesel snafu could have been solved with OTA-update technology.
Aside from maintenance and support, you can also deliver improvements to and augmentation of the functionality of the product. Tesla is a dramatic illustration of this phenomenon which is capturing the public eye, where self-driving features are being deployed as software updates. People are getting more than they expected. From a business model perspective, it also follows that the ability to differentiate functionality also gives you the ability to sell that functionality separately.
From a technical standpoint, OTA firmware updates require that devices, oftentimes resource constrained, need to be dynamically configurable. This is quite a paradigm shift from the traditional embedded system virtue of built-for-purpose functionality, and it requires a high degree of technical expertise to implement.
You and your team have a good grasp of all the moving parts in an IoT solution. How do you see this next phase of the IoT market evolving?
The market will grow, but certainly not in tact with all of the money that will continue to be invested in IoT providers, so there will still be this overall deficit. Generally in the business world, we can see evidence that people are understanding the potential impact of IoT, but are still wary about implementing IoT solutions.
There are too many frivolous consumer products and hopes have been somewhat deflated by the stagnation of the home automation market and the saturation in the wearables market. This is blinding business leaders from the more basic values IoT can provide, and we anticipate that the adoption of IoT technology is going to be more focused on more clearly defining concrete business goals and how they're enabled by specific technological components of IoT technology.
In terms of technology, we predict that we'll be seeing WiFi being utilized more and more to enable IoT solutions, especially in the consumer in-home context. This is because the virtues of WiFi outweigh the alternatives in many instances. WiFi gives you the ability to effectively connect a device directly to the cloud without a gateway because of the pervasiveness of WiFi based routers. As long as you have built-in on-device logic for handling basic offline functionality (so your room can still be heated and your cat can still be fed) the win in the near term of not having a gateway device will be significant.
Shout-outs: Any sites/people/articles or books that have inspired you lately?
With the continued rise of DIY IoT and the makers movement, we've seen a lot of groups with brilliant and sometimes absurd or trivial product ideas. Nevertheless, there are many creative ideas that are helping push our collective vision of what the IoT can be, and we feel a genuine affinity to the movement. They are our employees and our friends and associates, they are all around us, so while we're surfing sites like hackster.io, we're also just looking at what's going on in our own back yards.
There is however a significant hurdle that many DIY and startups have, and that is bringing the prototype to a stage that is production ready. A prototype, people are finding, is easy to create, and getting easier. But when you try to scale a product suite, we think a lot are realizing that it is actually harder than you might think when you have put all the pieces together. There are many tools and resources developing to help the DIY maker move from the basement to the boardroom, but we feel that there is still a lot of work to be done here. We feel that big business and the DIY movement have a lot to learn from each other, and because we're at the juncture of them both, we have something to offer to offer them both.
Thanks so much for talking with us.
To learn more about Seluxit, their IoT platform or Lemonbeat visit Seluxit.com and follow @seluxit.