Can you give us a little background about yourself?
I'm a communications technology entrepreneur and advisor based in Silicon Valley. I've spent the majority of my career at the intersection between technology and consumers. My career started as an intern at The Walt Disney Co. I'm a self-described "gadget nerd" and "entertainment junkie."
Currently, I'm CMO and Head of Business Development for Greenwave Systems, a global innovator in the Internet of Things (IoT) market. Greenwave is solely focused on helping to accelerate IoT with a services and software platform that makes it very easy and cost effective for service providers, utilities and consumer electronic brands to deploy and scale managed services to their customers. We are a late stage startup with 190 employees, customers including DIRECTV and E.ON, and a talented team of networking, consumer electronics and UX experts.
Prior to Greenwave, I led the software product marketing and business development teams for Motorola Home (acquired by Google) and 4HomeMedia (acquired by Motorola). At Motorola and 4Home, I was instrumental in the scaling of those businesses, setting product/market strategy, prospecting new business and supporting corporate development initiatives such as M&A.
I'm also an advisor for the Internet of Things Consortium whose members include some of the most innovative companies in the IoT industry including Basis, August and SmartThings. We are leading this organization to drive adoption of IoT products and services through market development, consumer research and industry education.
Nearly 5 years old, having a solid VC backing history, and currently over 190 employees it is safe to say that Greenwave has moved away from fledgling IoT start-up mode. Can you speak to the company's evolution over this time period (and recent name change).
Greenwave was formed five years ago to enable connectivity between smart devices and cloud-based applications. Today we are a software and services technology company behind some of the biggest global brands in the service provider and consumer electronics industries, and we're helping to resolve critical issues across hardware, software and user experience (UX) to create the best IoT experiences possible. We recently changed our company name from "GreenWave Reality" to "Greenwave Systems" to better reflect our company value and evolution.
Any predictions on how you think the market will mature during the next 5?
In five years we anticipate connectivity across devices and the proliferation of wearables will have disrupted multiple consumer and industrial markets. The impact we see today with smart thermostats and smart locks in the home will be replicated in sectors like home entertainment, healthcare and insurance industries, manufacturing and clothing. However, today the industry has not done a good enough job of abstracting the use case from the customer and the costs are still too high. As an industry we need to resolve those two issues to accelerate market traction.
Greenwave has offices (CA, Denmark, Singapore) and partners (E.ON, Dong Energy, etc.) spread all over the globe. Given this unique overview within the IoT ecosystem can you elaborate on any regional differences encountered in how companies are approaching the topic?
That's a good question. Our Chairman & CTO is originally from Europe and he recognized that deregulation and government mandates would alter the competitive landscape throughout Europe, and utilities would seek new ways to strengthen their relationships with customers and reduce churn.E.ON is Europe's largest utility and they recognized IoT to be the advancement they could build on to develop a portfolio of value-added, energy-efficient managed services and products. After an extensive search, they chose Greenwave to be the preferred platform partner for development of their energy management services to potentially 32 million households throughout Europe.
We are also seeing very rapid interest in Asia-Pacific where we have a large Greenwave presence and several key customers. China is another market opportunity that we are actively pursuing with our partners like NXP.

What are you currently working on or are most excited about?
I'm very excited about what we're doing at Greenwave, which is helping key global brands rationalize the IoT opportunity. With an increasing number of brands producing connected devices and entering the world of IoT, we're seeing a new trend emerging: these connected brands are reinventing themselves to be "service providers." Nike (FuelBand), TCP (Connected LED lightbulbs), and GE (Brillion-enabled smart appliances) are just a few examples of companies that now offer a connected service. The opportunities can be enormous in terms of establishing recurring ways to connect to their customers, but there are costs – and costs over time – including tech support, call centers, cloud hosting, data security, etc.
Our Greenwave360º solution is an industry-proven platform that enables organizations to offer connected services to their customers, and manage the entire life cycle of that service profitably. Today, the biggest inhibitor to consumer adoption of Smart Home is the value proposition. In most cases the cost of the offerings exceeds the perceived value. Our model helps our customers quickly deploy new offerings, enhance their service levels and drive down those costs.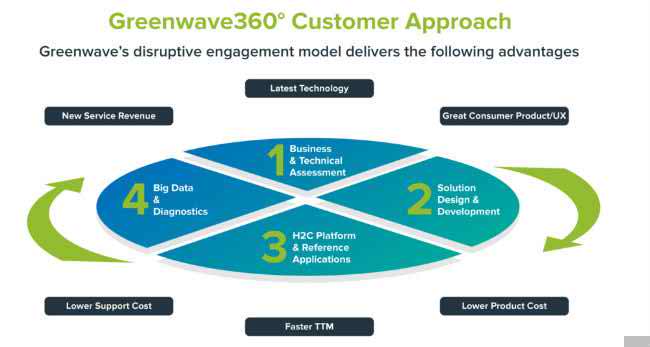 Where do you see the Internet of Things and its technologies creating the most impact?
The true potential of IoT will be realized when we can transform all the data extracted from the applications into meaningful information that makes our lives better and more efficient. In addition, the IoT opportunity cuts across almost all of the consumer and enterprise markets including healthcare, entertainment, transportation and resources.
Specific to today's consumers, all of us could use some "found time" – those extra 15 minutes that you can take back in your day to use as you wish. It could be spending extra time with your kids, watching a game or exercising. As we learn more about how these IoT applications and services are being used, we can start identifying ways to anticipate the user's needs before they're needed. This is not purely automation, but gaining the insight through machine learning that puts you in better control of your environment. I, for one, do not want to spend a lot of time time adjusting thermostats or lighting during the day and I appreciate the extra found time my IoT devices have given me. I believe HBO (huge Game of Thrones fan) is also happy!!
Shout-outs: Are there any sites/people/articles or books that have really inspired you lately?
Definitely. I'm a voracious reader and Twitter addict who loves to learn new things. I'm currently reading old posts from Marc Andreessen on product / market fit, and I'm really inspired by what's happening in the Maker Movement. I also like reading biographies, and in the past month I've finished books on both Jony Ive and Jeff Bezos.
In terms of people, I would say that the folks at the Internet of Things Consortium inspire me to give back to the industry. We just had a great session with 20 founders and executives from around IoT, including individuals from companies like Logitech, Electric Imp, Atmel and Indiegogo and we had an open discussion about the state of IoT. It was very inspiring to hear their conviction about how to make great products and build great teams – I'm really lucky to be part of the leadership team at IoTC.
Thanks for taking the time to talk to us.
If you would like to contact Nate or learn more about Greenwave Systems and their IoT systems visit GreenwaveSystems.com or follow their latest at @GreenwaveSys and @naywilliams