Can you give us a little background about yourself?Prior to DGLogik, I have held executive positions at several technology and green buildings initiatives developing data acquisition and visualization solutions to improve analysis and decision making capability through interactive presentation. I have filled Senior Strategic Management roles in User-Experience and Visualization for Cisco Systems.

Within DGLogik, Inc., I am the co-founder and CTO. I manage the DGLux platform technology development and product design. I work closely with our developers and designers to build the most advanced features, enhance workflows and enable users to design the most intuitive and interactive interfaces for the end user experience.

And a little background on your company?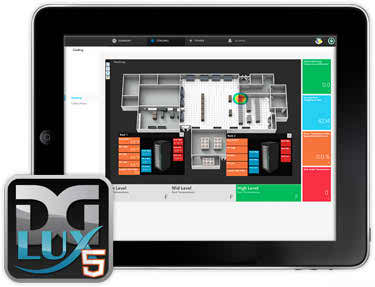 The name of our company is DGLogik. Our flagship product, DGLux, stands for DGLogik User eXperience. We discovered the need for a technology such as DGLux over 7 years ago when we recognized that the platforms being used for creating, enabling and visualizing IoT applications and dashboards required daunting programming tasks and an extremely long and inefficient development lifecycle. Most of the platforms were of the same mold, not very flexible, nor powerful, nor intuitive for the user's experience.
Take an operations manager overseeing a data center, for example. He wants the ability to oversee his data center from any location on any device at any time without just seeing a bunch of pie charts and line graphs. He wants to see the representation and the geographic and physical representation of the equipment itself along with its most relevant set of information. He wants this information on his dashboard to upload quickly and respond so that it looks appropriate and legible whether he is on his desktop or on his cell phone. This allows him to easily evaluate his data center and make the quickest decisions according to the real-time and historic data trends and alarms displayed on his dashboard.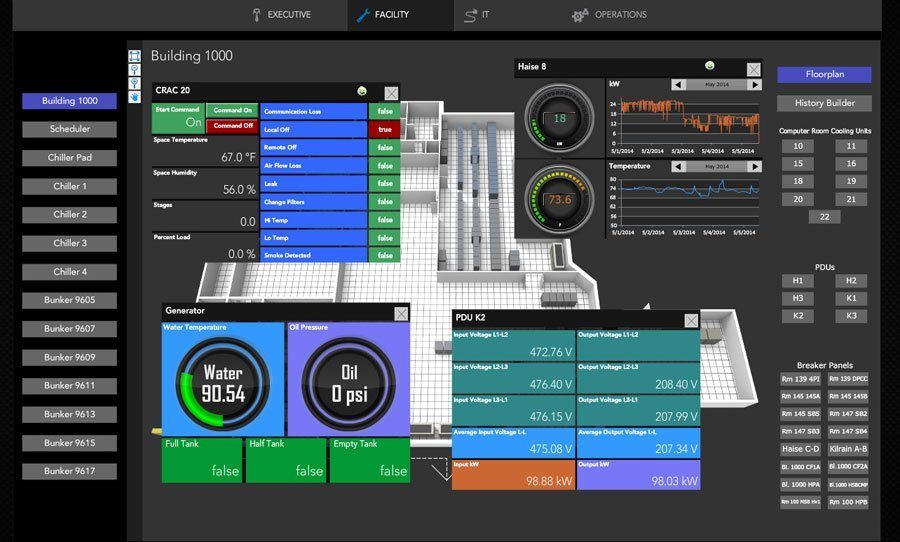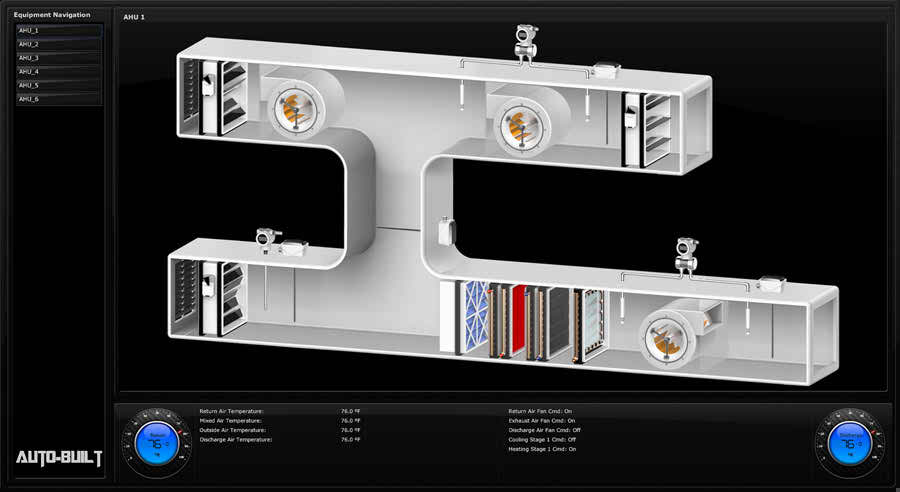 The unconstrained visualization, usability and flexibility of DGLux has evolved with today's technology and resulted in our latest release, HTML5 based, DGLux5. It is the modern-day cross-platform solution not requiring any browser plugins nor mobile apps. It provides an environment which allows any average user (with minimal design or development experience) to pull any type of information in and create purpose driven applications using a drag and drop tool and modern design features.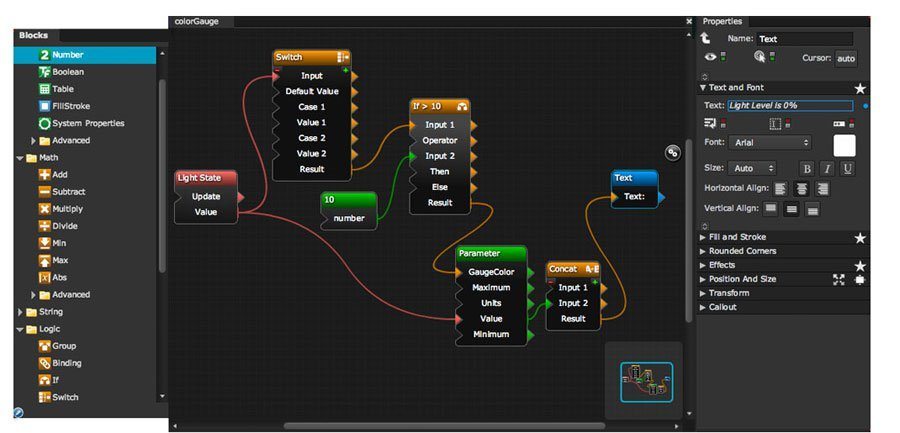 It seems like there will be a growing market for applications that help tame the complexities of the number of connected devices coming to market.
We believe that in the future, thousands upon thousands of IoT applications will be used as end user operating systems. Right now it's a very disparate, very siloed landscape. Every manufacturer creates their own application to work with their specific thing which will not scale into the future. DGLux5, however, allows users to bring in all of these different devices and applications and rapidly create a unified, single application that will drive more use, more flexibility, and more intelligence.
Do you have any specific protocols or API requirements on incoming devices when using your Data Visualization Tool?
There aren't any specific requirements. We can take in any data source and support any API. In fact, in our business model we never actually charge for the data acquisition because we believe that if your connected devices are generating data, this data already belongs to you and you shouldn't be paying to get access to it. You should be able to use it as you see fit without being penalized.
From a user perspective can someone out in the field or data center use a mobile device and the application to send data back to the platform?
Control has always been a part of DGLux. It's purpose has always been to visualize and send information back, if you will.
And speaking of, we actually have another aspect of our technology which is capable of running on premise or in the cloud. Our product DGBox can act as a field level integration platform for non-IP devices. Sometimes you have Zigbee, Z-wave or other proprietary wireless protocol devices that are on a localized, proprietary network. Maybe they're connected to each other, but they are not capable of interacting with other, different, devices. They are essentially siloed, and cannot be considered true IoT devices. The DGBox allows you to connect to these various devices which may be proprietary or legacy, and normalize them to be able to exchange information between another creating a real IoT network.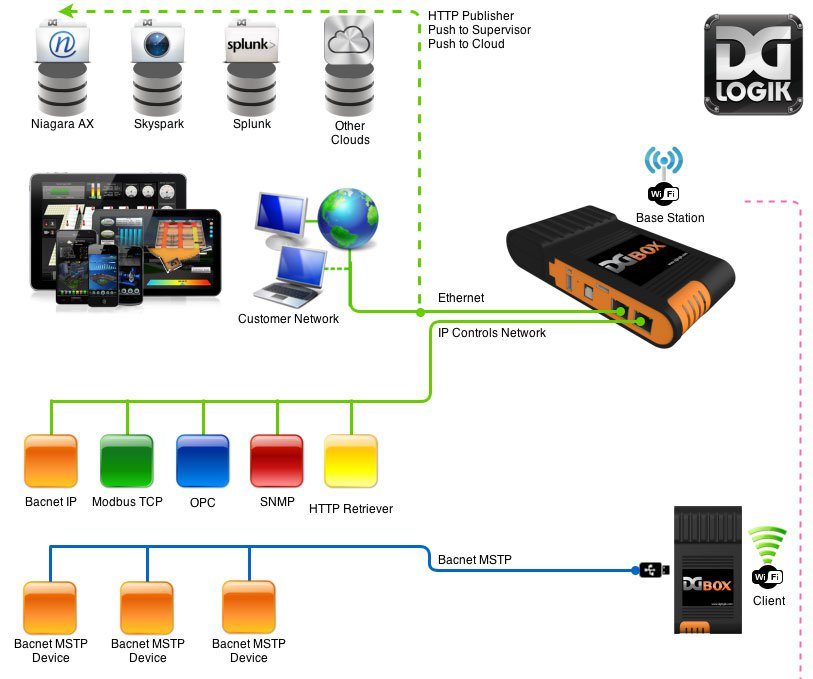 It looks like you can run on pretty small embedded devices?
In terms of the user experience, we can pretty much run on any device with a web browser. In terms of the integration platform like DGBox, we can run on things like Raspberry Pi and the BeagleBone Black and similar systems to that. These are not really hardened for daily use due to their stability but we see these platforms playing an important role in educating the next wave of thought process in terms of how to create Internet Things.
Have you come across any unexpected use cases of the platform?
Over the years, our technology has been used across many different verticals in IoT. Everything from touch screen kiosks, to building management and datacenter operation, to even parking container ships.
We definitely have seen customers and partners use our technology in unpredicted ways. Based on the fact that DGlux lets you build any domain specific application provided that you can connect it to the data feed we expect we will continue to be surprised by the number of creative applications still to be developed.
What's the biggest hesitation you see at the moment when interacting with users? Creating domain specific libraries within the tool?
No, it's very easy to create new components and new widgets and mash them up together within the platform. One thing that we do see is that the consumer is not fully educated on the connectivity and interoperability of their devices. Another challenge we see from users, is utilizing a trusted, secure device. We, at DGLogik, definitely try to educate users about best practices when installing and integrating these technologies.
So you are targeting consumers directly?
We are targeting both consumers and enterprises. What makes us unique is that we have been doing IoT before IoT had a name and had originally started in the building automation world. It has become much easier for us to describe our value proposition because now we can just stick the word IoT into a conversation and that helps consumers understand what we do.
By first dealing with buildings and all of the proprietary protocols, various interconnection mechanisms, and use cases involved while visualizing sensor data and controlling equipment, we have learned lessons that are 100% applicable to the current consumer IoT market and how the industry is approaching it.
Beside education, do you see any other barriers from the consumer market?
We are actually really excited about the future. We believe that the next greatest fuel or application for the Internet of Things will come from the imagination of a new type of user. Somebody that is not necessarily learning what IoT is but somebody that is using IoT, somebody that is coming from a different mindset.
The new users are going to create very novel applications, very novel ideas, and they're going to have very novel inventions and we really want users to recognize the power and endless capabilities of our technology.
Beyond sensor data, do you have integration with social media data or other APIs?
We are very much involved in the social media visualization space. With our platform, we are able to interact with data from various outlets such as Twitter, Facebook, Instagram, Vine, and a number of others. Cisco is actually one of our biggest customers for social media visualizations. They have DGLux powering all of their conferences like Cisco Live and other shows. We're showing, in real-time who's tweeting, who's posting pictures, activity levels, sensor analysis, etc.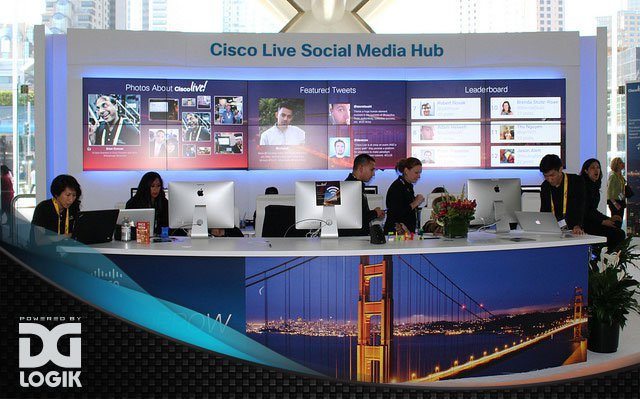 Thoughts on any other any major issues popping up within the IoT moving forward?
One of the major issues in IoT, and is also a lesson learned from the building automation world, is manufacturers coming out with devices utilizing their proprietary infrastructures, proprietary protocols. Calling themselves open because of some sort of a development community but still locking their developer communities into their own platform isn't really "open".
Whereas if you look at the current landscape of the Internet, when you buy a computer it has Wi-Fi and it has Ethernet. You're pretty confident that you can get online without a converter. So the devices that are coming out in IoT need to conform to some sort of open standard so that as a consumer, when I'm buying a new device, I'm not really concerned if it will be able to interoperate with all of the other things I already own, I expect it to just work.
Do you see that happening at a certain layer in the system? Hubs in the consumer space?
It's not really about the hubs. You can convert the protocol format. It's about the data inside the device. We see this often while integrating hardware with the DGBox. Take a relay that controls the lights. It accepts a one or a zero. There's a light switch which top button generates a two, bottom button generates a one, and when you let go of the button it generates a zero. These two devices can't be connected directly. There needs to be a little bit of logic in-between them, even though they're both speaking the same protocol in the same format.
We, at DGLogik, are working on open standards which we will be introducing to the market in the near future. Because from our point of view, the more devices that are out there, the more rapid the growth of IoT, and the faster we can all get to a truly connected world.
Thanks for taking the time.
If you would like to contact Dennis or learn more about DGLogik's latest tools you can find more details at Dglogik.com. The company has also started a LinkedIn page focused on Internet of Things – Visualization that can be participated in here.