Can you give us a little background about yourself?
I'm Agustin, a 29 year-old hardware engineer who runs Ubidots, a startup empowering people to understand the data generated by thousands of sensors all around us.
I've enjoyed being a maker for the most part of my life; I remember building my first project when I was ten -an "automatic pet feeder"- for my school's science fair. Since then, I knew what I wanted to do as a career: apply creativity to solve real-world problems. Fifteen years later, I became an electrical engineer and worked for the aerospace industry in Germany. Then I got a business degree from Grenoble Ecole de Management, and then founded Ubidots in 2012.
At Ubidots we are empowering other makers and hardware engineers to connect their devices to the Internet so that they can create not just "automatic pet feeders", but also temperature monitors, energy meters or even cow tracking systems.
I enjoy travelling, speaking different languages, good coffee and good beer.
What are you currently working on or are most excited about?
I co-founded an engineering company 3 years ago when I didn't even know what the "Internet of Things" was. All the sudden, most of our projects turned out to be related to remote monitoring systems, so we decided to use these experiences to build a product.
This product became Ubidots; a cloud service to store and analyse sensor data in real time. It that packs together most of the things that hardware engineers are not familiar with, like managing a real-time backend, building pretty graphs and doing API integrations. This way, they can focus on building great hardware projects for their customers, or themselves, instead of wasting time learning web code, hiring data experts or managing developers.
It's been a very exciting ride. We started building something to "scratch our own itch", but then it turned out to be extremely useful for the hardware community out there.
How do you view the term "Internet of Things" at the moment?
I see IoT as a set of interesting technologies; some of which have been around for decades -like "Machine-to-machine" or "Wireless-Sensor-Networks"- while others are experiencing an unusual fast development -like mobile, silicon size/power and cloud.
To accelerate IoT adoption we need to work on two aspects: standards and short-term value creation.
In the first place, we need to standardize a way to achieve a low consumption device-to-device communication that is reliable enough. We need something different than ZigBee, Bluetooth or WirelessHART; a new standard that becomes widely adopted and helps manufacturers cut down the costs and increase adoption. As for the communication between IoT gateways and the Internet, I don't really see an urgent need for standards because the current ones work well enough.
The second aspect refers to the incentives needed to increase the amount of connected devices out there. I see the enterprise as the main source for connected objects; this is where the most short-term value can be created. We shouldn't be using the term "IoT" as a marketing phrase for them; we should be using promises like "cost reduction", "lower risk" or "increased profit" so we make sure they install as much devices as possible within their businesses, getting positive ROI's. At Ubidots, we have helped hospitals keep track of their blood banks' cold chain, as well as oil/gas companies increase their up-time by keeping their machines' data online.
Can you give a few examples of your platform in the field?
The International Centre for Theoretical Physics is using Ubidots to gather and visualize data from a network of sensors that monitor urban air pollution in Africa.
In Latin America construction industry power supply provider Enertem uses Ubidots for their backend sensor data. Their proprietary monitoring system is built on top of the platform, which helps them log data from hundreds of power generators and helps them prevent failures due to SMS and Email alerts that are sent to their onsite technical teams.
With your background in helping the commercial gas industry in Latin America with the original platform and now helping power individual developers with your new free pricing plan option, Ubidots has a unique position from interacting equally with both the Maker and Enterprise worlds.
How do you see these seemingly divergent worlds interacting and influencing each-other in the coming years?
First of all, we are committed to support the Maker movement because we are makers ourselves. We have tutorials related to makers' hardware platforms (Arduino and Raspberry Pi) and will continue to have a free tier for them. We believe that's were most innovation is coming from; it's not a coincidence that our current product was shaped by their constant feedback.
On the other side, our enterprise experience has helped us identify most headaches that IoT developers will face, as well as giving us the cash-flow to bootstrap our business.
In conclusion, both in the enterprise and the maker world, our focus has always been to solve the headaches of hardware developers themselves.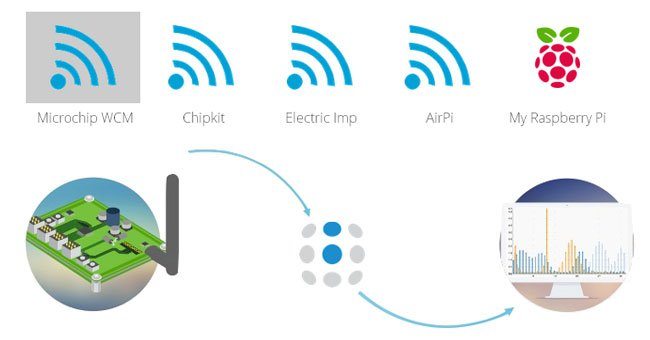 With your support of community driven open-hardware platforms how do you see the co-evolution of hardware and cloud data management platforms happening from both a developer and end-user perspective?
Just as open-software, open-hardware is already making its way into production applications. This is why I think it's not possible to separate community driven initiatives from end-user/commercial applications. TakeSpark.io for example; their prototyping platform is open-source, but their users are already building commercial applications with it. We support open hardware platforms not only because they help us gain visibility within their communities, but also because they empower low-cost deployments that serve as prototypes for larger applications.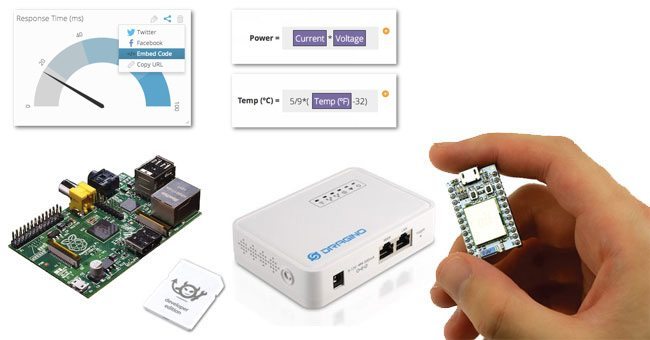 Where do you see the Internet of Things and its technologies creating the most impact?
As explained, IoT and some of its technology are already here. However, the most impact of IoT will happen once we begin sharing sensor data across multiple companies and value chains. Traditional technologies like M2M were just about helping a company keep track of its asset's location (i.e. fleet management). In the IoT era, it will be also about helping share those assets location with other parties, in an easy and API-friendly way. For example, a private company that operates ambulances could share it's ambulances' GPS data with the 911 public service in real-time, so that a patient could get a faster emergency service. In this scenario, the difference between sharing a GPS data or not, can be the difference between life or death.
The moment we make sensor data sharing as easy as sharing a Google Drive document, then we'll be begin seeing a massive data-collaboration among companies and individuals. This collective intelligence will help our cities -and ourselves- improve health, transportation and overall quality of life.
Shout-outs: Are there any sites/people/articles or books that have really inspired you lately?
In terms of recent books "Makers" by Chris Anderson and "Rework" by Jason Fries & David Heinemeier from 37Signals. In terms of people, last month I had the chance to meet Steve Wozniak. He said he invented the personal computer "not to change the world but because he needed one at home". A true inspiration for all of us building stuff at home.
Thanks for taking the time to talk with us.
If you would like to contact Agustín follow his latest at @AgustinPelaezG or learn more about Ubidots latest commercial and maker platform offerings at Ubidots.com.