This is the second segment in the Postscapes Interview Series with some of the top people influencing the Internet of Things.
Interview:
Who are you, and what do you do?
I'm @domguinard known in the real world as Dominique Guinard. Together with Vlad Trifa we co-founded the Webofthings.com community, blog and workshop series.
I recently finished my Ph.D. at ETH Zurich where I was working on a Web of Things Application Architecture. The goal of this architecture is to push the developments of Internet of Things applications from the hands of embedded systems specialists to tech-savvies and end-users thanks to Web-inspired patterns, languages, protocols and tools. What if we could rewire the world as we rewire the Web, what if physical mashups were becoming real?
After 9 years of research in the IoT, I'm now looking forward to the next adventure: Evrythng , our own Web of Things startup, co-founded together with Niall Murphy, Andy Hobsbawm and of course Vlad Trifa. In a nutshell we'll be looking at implementing a Social Web of Things, you'll have to be a little patient to see what this concretely means
How do you view the term "Internet of Things"?
The term "Internet of Things" has several origins one of the very early ones being in the field of RFID. In 1999, people such as Sanjay Sarma at MIT orFriedemann Mattern at ETH, federated within the Auto-ID labs, had the vision of tagged objects becoming part of a global standard network (calledEPC Network) upon which unprecedented applications could be built. I'm pretty attached to this link between RFID and the IoT, as this is where I began in 2004 while working on implementing an application framework for EPC Network with Sun Microsystems.
However, a few years later, in projects such as Internet0 the concept of a global network of things was further pushed, closer and closer to Internet protocols and encompassing not only RFID tagged objects but all kinds of embedded devices. The term never stopped to evolve and be redefined since then. Inspired by projects such as Cooltown, early 2007 together with Vlad and Erik Wilde, a Web researcher and REST specialist, we proposed the idea of a Web of Things (Original Publication) in which things would not only be integrated at a network layer (Internet) but also at an application layer (Web). Again, with the goal of easing the developments of applications wanting to use embedded devices and tagged objects.
Where do you see the Internet of Things and its technologies creating the most impact?
While doing part of my Ph.D. at the MIT Auto-ID labs I had the chance to realize that RFID was not dead but rather beyond the hype-cycle, currently being adopted by several companies. I think the vision of the IoT can have an important impact on these deployments if integrators think beyond the traditional use-cases and try to be creative in the applications, thinking harder about the benefits for consumers.
However, clearly the impact is now beyond RFID. In domains such as home automation and entertainment where prominent device manufacturers (e.g., Samsung) decided to drop their proprietary protocols in favor of more Internet or Web-friendly solutions. Recently in fields such as Wireless Sensor Networks people started to realize that Internet and Web protocols, even if less optimized than their home-grown protocols, where the way to go to foster open innovation. If phone manufacturers can create momentum with Apps (and more recently HTML5 mobile Web Apps!), so could all kinds of embedded device manufacturers! We now see the realization of this in domains such as smart cities, the smart grid, DIY, home and industrial automation and surely a lot more to come!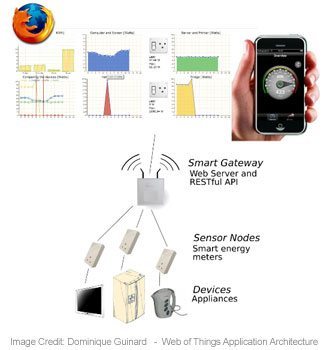 What are you currently working on or are most excited about?
I'm currently working on recovering the very little sleep I had during the last weeks of my Ph.D.
More seriously the last project I worked on was at MIT where I looked at how the Web of Things (Application Architecture) could ease application developments mixing together RFID and sensors in the EPC Network. I really enjoyed it because we could clearly illustrate that by adopting Web standards we significantly eased the development of application. We could for instance enable mobile Web application to get data directly pushed from RFID readers or electronic article surveillance use-cases to be implemented within a few clicks with physical mashups tools. More recently I started further developing ourFriends and Things project,where we look at merging social networks and networks of objects, the matter of some of our future products at Evrythng.
Shout-outs: Any sites/people/articles or books that have inspired you lately?
So many, but you listed most all of them in your Top 100! Personally, I'm always most inspired by meeting humble doers, actually building the IoT in the commercial world, rather than talking about it (like we researchers tend to do too much ;-)). If I really have to select, platform-wise I was impressed by the folks at Sen.se, ioBridge (and their ThingSpeakplatform), ThingWorx, Paraimpu or Yaler. They all contribute to make the IoT ecosystem grow significantly.
Application-wise I would mention the City Innovation Group (smart cities),Mirasense (product scanning) and Koubachi (plant monitoring). Hardware-wise, besides the obvious Arduino team, I would definitely keep an eye onOpenPicus proposing end-to-end HTTP open-source nodes and the very clean and Web-oriented embedded application stacks of the SunSPOTteam.
As for articles I would say check the proceedings of WoT2011, we had the chance to see such a number of very inspiring talks there! I would also recommend papers such as the ones on Internet0, the EPC Network orCooltown. reading these is like reading a history manual, except the time of actual realization of these visions is … today! Book-wise I just finished Cuno Pfister's "Getting Started with the Internet of Things" and would recommend it to those willing to get their hands dirty and implement the Internet and/or the Web of Things (we are also preparing something along those lines, stay tuned ;-)).
Thanks for taking the time to talk to us and we are excited to see what's coming next from you and the team.

If you would like to contact Dominique or learn more about his Ph.D. work and latest startup venture visit his personal page or follow him at @domguinard. You can learn more details about the Web of Things concept here or follow their updates at @webofthings.