Beacons are poised to be one of the defining features of the Internet of Things over the next few years, and the folks at Ruuvi want to make sure there's an open-source option. They call their projectRuuviTag, and say that it's designed to "fulfill the needs of developers, makers, hobbyists, students, IoT companies and even normal people."
Beacons are typically short-range devices that broadcast one-way signals packed with a small amount of information about their location, nearby objects, or sensor data. Smartphones and other devices can pick up these little pings to help the user learn about their surroundings or to enrich the experience of mobile apps. Lots of companies — including Google, Facebook and a bunch of startups — have started to explore the possibilities and develop beacon hardware and software. And given the recent announcement of upcoming beacon-friendly features in Bluetooth 5, Ruuvi's timing for an accessible, open-source version is pretty spot-on.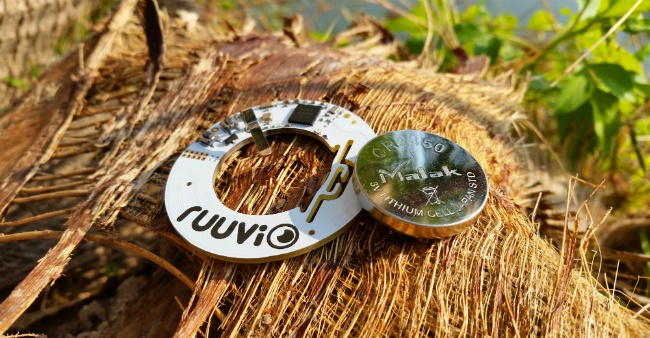 RuuviTag looks like a flattened mini-donut, with a metal clip extending into the center to hold a coin battery. The ring is studded with sensors for temperature, humidity, barometric pressure, altitude and acceleration, plus a Bluetooth 5-ready radio and an antenna that boasts up to 500 meters of range. It comes with a bootloader preinstalled so you can quickly update the firmware right out of the box, and the firmware, bootloader and Bluetooth protocol stack can all be updated over-the-air — which is to say, wirelessly. That will be important when Bluetooth 5 is released around the end of 2016.
All of Ruuvi's contributions, include hardware designs and software, are available on GitHub. To get folks started, the team is providing a handful of example projects: one is a weather station app that draws on the beacon's sensor data; another is an Eddystone beacon app that broadcasts a URL which nearby users can access through their web browser (in line with Google's Physical Web concept, that every device will have its own webpage). The device also supports Apple's iBeacon standard.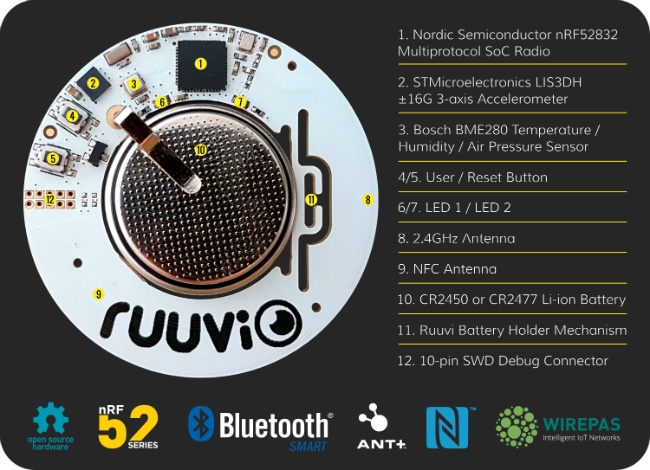 RuuviTag is software-compatible with Arduino, which means you can write programs for it using Arduino development tools. For hardcore developers, there's also an Arduino "shield" that connects RuuviTag's hardware to other Arduino-based projects.
Pop over to Kickstarter before August 11 to get in on RuuviTag's first production run, which is expected to ship in October. The beacons started at $25 each, with discounts for pledges on bulk orders.
Get some ideas for how to use RuuviTag in the video below.
Related: Bluetooth 5, Bluetooth Beacon Handbook, IoT Hardware