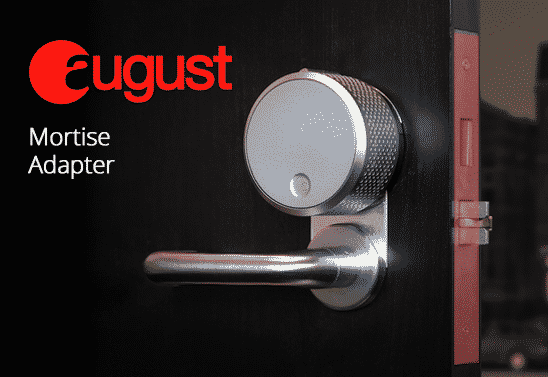 Interested in getting an August lock to work on your mortise style door lock?
A quick FAQ on what is available now from the company.
Does August currently offer a mortise door lock?
No, not at the moment.
Did they ever offer a mortise lock?
For a short time in 2016 the company offered a mortise adapter kit for an additional $100 that worked with a few models of smart locks.
Due to issues with the lock not being compatible with most mortise locks the company pulled the adapter kit off of the market.
See the original press release below.
Is it coming back?
Several users have reached out to August support staff and they have mentioned working on an update for the product, but no hard release dates or specs have been released.
The August Mortise Kit has currently been put on hold while we explore ways to make it compatible with more mortise locks.

— august support (@August_Support) February 13, 2018
Any other smart mortise locks?
Check our smart mortise lock guide here to see what commercial and residential mortise smart locks are on the market.
Press Release
August Home Expands Smart Lock Family First mortise smart lock available in North America; August Smart Lock Mortise Kit converts a mortise lock into a smart lock CES – LAS VEGAS, January 5, 2016
August Home Inc, the leading provider of smart locks and smart home access products and services that make life more simple and secure, today announced the August Smart Lock Mortise Kit.
The first smart lock solution available in North America that converts mortise style locks, which combine the functionality of a locking bolt and door handle in one, into a smart lock. The August Smart Lock Mortise Kit works with the awardwinning August Smart Lock allowing select mortise style locks to be controlled from anywhere using a smartphone.
"Since launching the August Smart Lock two years ago, we've had significant interest from consumers, home builders and locksmiths wanting to use our Smart Lock with a mortise style lock," said Jason Johnson, CEO of August Home Inc. "With our Smart Lock Mortise Kit, we are expanding the range of locks that work with the August Smart Home Access Solution to now include both single-cylinder deadbolts and mortise locks. Our goal is to be compatible with all door locks and deliver the benefits of August Access to everyone." The August Smart Lock is already compatible out-of-the-box with most single-cylinder deadbolts used in most homes across North America.
Mortise locks are also popular and commonly used in both high-rise buildings and newer construction. With the August Smart Lock Mortise Kit, the August Smart Lock works with the majority of lock styles used in North America. Perfect for Builders and New Construction The August Smart Lock Mortise Kit gives building managers the ability to install smart locks in their properties that use mortise locks, which are typical for multi-unit buildings. Now managers can control access to the building or individual units via Bluetooth and remotely via Wi-Fi, all from a smartphone.
"We're big fans of the August Smart Lock and have wanted to install them in our properties for a long time. Some multi-unit building regulations require that we use a mortise solution. The August Smart Lock Mortise Kit will allow us to start installing smart locks in our buildings," said Loring Sagan, founder and principal of luxury residential developer BUILD, one of San Francisco's premier multi-family housing developers. "Adding smart locks also allows us to future-proof our homes so that access may be provided remotely in case of a lockout or needing to provide remote access. In a tech-savvy community providing smart solutions translates to an improved bottom line."
"We've been Beta testing the August Smart Lock in our properties. We embrace innovation that serves our customers and the new mortise solution offers benefits for our apartment residents, and for us as the property owner," said Yat-Pang Au, CEO of Veritas Investments, owneroperator of $2 billion in urban mixed use multi-family and retail property in San Francisco.
"Residents appreciate the control and improved home security August offers. As a property owner, the flexibility to offer residents shared-economy services including laundry pickup, cleaning and grocery delivery is a great benefit too."
August Smart Lock Mortise Kit The August Smart Lock Mortise Kit includes a mounting plate and adapter that allows users to connect the August Smart Lock to a mortise lock. The kit and August Smart Lock install on the inside of the door so the existing exterior door hardware stays the same and users can use a traditional key at any time.
Pricing, Availability & Compatibility
The August Smart Lock Mortise Kit is available for certified locksmiths, property developers and managers priced at $100 with volume discounts available. The August Smart Lock is available separately for $229. The August Smart Lock is compatible with single-cylinder deadbolts. The August Smart Lock Mortise Kit allows the August Smart Lock to also work with select mortise locks from Accurate, Schlage, Yale and other leading mortise lock providers. Locksmiths and property developers can contact August Home for more information.
August Smart Home Access Solution
The August Smart Lock, August Smart Keypad and August Doorbell Cam, create the complete Smart Home Access solution allowing people to manage their front door from anywhere. The August Smart Lock turns a smartphone into a smart key where consumers can lock and unlock their door, create virtual keys for guests, and keep track of who comes and goes with a 24/7 activity log. The August Smart Keypad also lets users create unique entry codes for family, friends and service providers to unlock an August Smart Lock without a traditional key or smartphone.
The August Doorbell Cam lets consumers see and speak with visitors at the door, from anywhere, using a smartphone. August Works With August products work together with leading smart home brands to make life more simple and secure. August Works With partners include Airbnb, Amazon, Apple, Logitech, Nest and Xfinity Home. For more information visit August Works With.
About August Home Inc
August builds smart home access products and services that are safer than traditional keys, make life easier, and put users in control of their front door from anywhere. With August Home products, users can create virtual keys to their home and easily grant access to house cleaners, dog walkers, delivery services, guests, friends, and family—and control how long that access lasts—all from a smartphone. August Home products work together, integrate with other smart devices and services, and are designed to fit naturally and elegantly into the home. August Home Inc is headquartered in San Francisco, California. # # # Contact: Lisa Auslen August Home Inc [email protected]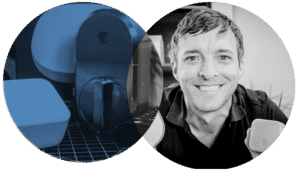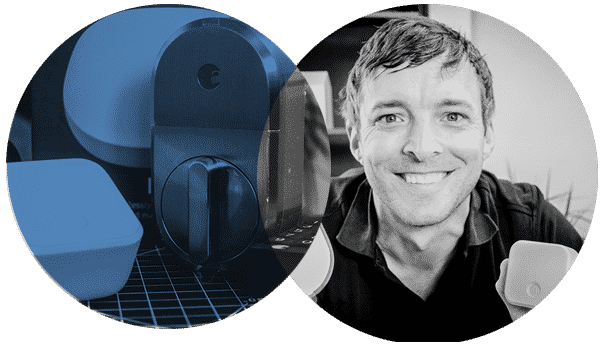 About Smart Lock Scout
We are here to help you keep your home and family safely connected. Whether you're looking to pick a smart lock system, we've spent hundreds of hours researching locks to help you find the best product to fit your specific situation.
At Postscapes we combine our years of experience following the smart home market along with user reviews to take the guesswork out of living securely connected. Learn More
Ultimate Smart Lock Guide
Filter and find the perfect lock for your home or apartment