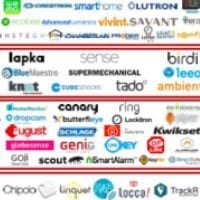 Investing in Internet of Things Stocks
What companies and categories are going to best capture the emerging Internet of Things (IoT) trend? We look at a variety of tickers across market verticals and their potential growth numbers.
So you are buying into the IoT Hype of billions of connected devices and trillions in economic impact.
So how exactly do you invest in the "Internet of Things" given its nebulous nature and ability to touch wide ranging industries?
The following Channel Guide will:
Narrow down a list of which technologies and industries are best poised to capture the IoT growth.
Understand how the industries big players (CSCO, IBM, etc) have held up to the market disruption so far.
Give you a range of resources to help you better understand the trend and its future trajectory to capture top growth stocks.
– Looking for VC funding rounds or IoT Startup incubators please visit our IoT Investment page.
– A list of companies focused on the IoT with over a billion dollars in market cap can be found here.
– Market forecast for industries and verticals can be found on our IoT Markets page.
Publicly Traded Companies
A listing of IoT related stocks being traded on public markets.
Want to see the complete list and data?
Showing a curated sample of 25 publicly traded companies in the Internet of Things market.
Research articles on which stocks to pick to capture IoT potential growth and market impact.
Global X Internet of Things Thematic ETF (Nasdaq: SNSR)
- Holdings PDF
- Management Fees 0.68% (Prospectus PDF)
- As of July 1, 2016, companies must have a minimum market capitalization of $100 million and a minimum average daily turnover for the last 6 months greater than or equal to $2 million in order to be eligible for inclusion in the Underlying Index.
Index Provider has identified the following four Internet of Things themes:
Consumer IoT Technology
Equipment, Vehicle, and Infrastructure/Building Technology
Semiconductors and Sensors and
Networking Infrastructure/ Software
Largest Holdings as of 9/2016:
WASION GROUP LTD
ADVANTECH CO LTD ORD
STMICROELECTRONICS N.V
BROCADE COMMUNICATIONS SYS
CYPRESS SEMICONDUCTOR CORP
An overview of what companies are market leaders in each of their verticals
IoT Semiconductors Market Leaders
Analog Devices (NASDAQ: ADI)
- IoT Offerings
- Aquired Linear Technology (NASDAQ: LLDC) for $14.8B - 7/26/2016 - Article
Microchip (NASDAQ: MCHP)
- IoT Offerings
- Aquired Atmel (NASDAQ: ATML) for $3.6B - 1/19/2016 - Article
Avago Technologies -- Now named Broadcom Ltd (NASDAQ: AVGO)
- Acquired Broadcom (NASDAQ: BRCM) for $37B - 5/28/2015 - Article
NXP Semiconductors (NASDAQ: NXPI)
- IoT Offerings
- Acquired Freescale (NYSE: FSL) for $11.8B - 3/2/2015 - Article
Marvell Technology Group Ltd (NASDAQ: MRVL)
- IoT Offerings

Cypress Semiconductor Corporation (NASDAQ: CY)
- IoT Offerings
- Acquired Broadcom's IoT Offerings for $550M - 6/16/2016 - Article
Additional Acquisitions in market:
ARM Holdings (NASDAQ: ARMH) - Acquired by SoftBank Group Corp TYO: 9984 - $32B - 7/18/2016 - Article
Telecoms: IoT Connectivity
Comcast (NASDAQ: CMCSA)
- IoT Offerings
- Acquired iControl Networks on June 23rd 2016
T-Mobile (NASDAQ: TMUS)
- IoT Offerings
Verizon Communications Inc.(NYSE: VZ)
- IoT Offerings
AT&T Inc. (NYSE: T)
- IoT Offerings
Additional Articles:
Reports
Disclosure
The author did not and does not intend to suggest any specific action by any investor or shareholder and strongly suggest that any decision made to buy or sell shares of these stocks be made after consultation with an investment advisor as to the suitability of such an investment. The author currently does not own shares of any of the above-mentioned stocks but may buy or sell shares at any time based on market conditions and the trading prices.