Every US vehicle sold after January 1996 has an on-board diagnostics port located near the driver's seat that you can plug a specialized device into and capture information about the status of your car's engine and its incoming sensor readings.

Up until recently the information coming from this port was only accessible to your mechanic for diagnostic purposes but new plug-in devices like Fuse are being released that are allowing everyday motorists to unlock this information and put it to use in their daily lives.
Created by Phil Windley and his Kynetx team out of Utah the Fuse comes outfitted with a cellular connection and a GPS. Once plugged into your OBD II port the device can read messages from the car's data bus along with details on its current location. This data is then forwarded onto your personal private cloud account where you can decide how the data will be used.
Examples of a connected car devices being used in combination with a personal cloud include;
Using the two to automatically track trip mileage and expenses for your tax-deductible business trip.
Monitor fuel costs in the area to alert you when and where you should fill up to save the most money that best fits in with your calendar.
Automatically have it send a message to the next pick-up passenger in your carpool when you are a few minutes away.
Use the engine codes and your calendar to schedule oil changes and inspections, or keep track of your car expenses over time in combination with a 3rd party finance app.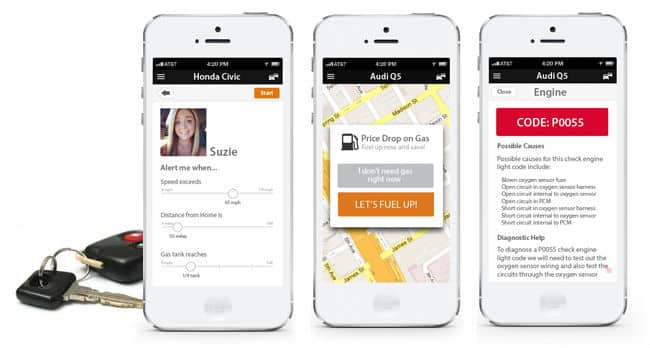 More details about Fuse can be found at: Joinfuse.com
Additional: Connected Car Devices, Product release notes
Related: Automatic, Carvoyant, Cloud Your Car, Open XC Platform, VRM