Urban car owners know that in a big city, street parking is at a premium. Only so many spots are open at any given time, and the list of restrictions can be downright byzantine: loading zones, permit requirements, street cleaning days, snow emergency rules, and so on and so forth.
Fortunately Hi-Park, an Israeli startup based in Tel Aviv, is working on a solution that will allow city drivers to find and share open parking spots in real time. Even better, it doesn't require another gadget clinging to your windshield — just a mobile app, which turns your smartphone into a parking spot-seeking dashcam.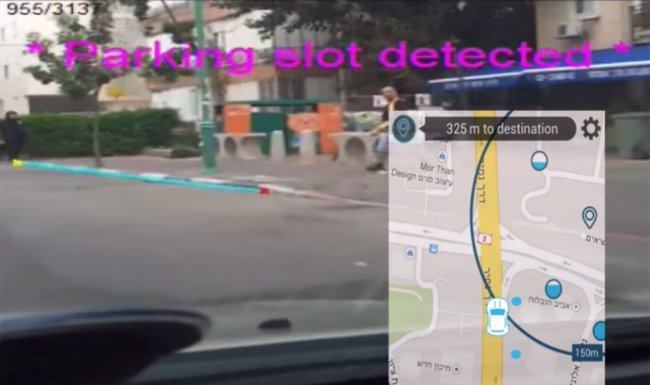 Hi-Park's machine vision algorithms scan the road as you drive around, identifying any gap large enough to fit a vehicle. Each spot is location-tagged and uploaded so that it will be visible to other users. Meanwhile, you'll be able to see open spots others have passed near your own destination, and get turn-by-turn directions to reach them…hopefully before anyone else.
Timing, of course, is everything, and Hi-Park can't prevent other drivers from finding a spot before you do. But even then, you're likely to see another spot opening up nearby, because the company says it only takes a small number of machine-vision contributors to get pretty regular coverage across much of a city. Compare Hi-Park to apps that crowdsource up-to-date gas prices, or even to Wikipedia: Those platforms are useful even though only a small minority of users actually contribute updates.
Hi-Park was one of a dozen startups accepted last month to the ChallengeUp! accelerator program, which is run by Intel, Cisco and Deutsche Telecom. Beyond crowdsourcing a solution to urban parking, the team hopes the app will also collect data about road hazards, gas prices, and other info useful to drivers. Eventually the software could be integrated with other mapping software and GPS devices, or included as part of the on-board "infotainment" systems in many cars.
Check out the video below to see Hi-Park's machine vision app in action.
Related: Carvi, Smart Parking, OpenMV Cam