Breathe, a 2014 project from digital designer Samuel Cox, is a wearable air quality monitor with a minimalist look and interface.
The rectangular device can be attached to clothing or bags with a clip or leather loop. It contains a sensor that responds to several harmful gases including carbon monoxide, as well as an Arduino processor, Bluetooth Low Energy module and rechargeable battery.
When air quality indicators pass a certain threshold, a red LED begins to glow through the 3D-printed plastic. Meanwhile, data is synced to a paired smartphone that can keep records of daily air intake, add the data to crowdsourced maps and help users plot walking and biking routes that avoid pollution hotspots.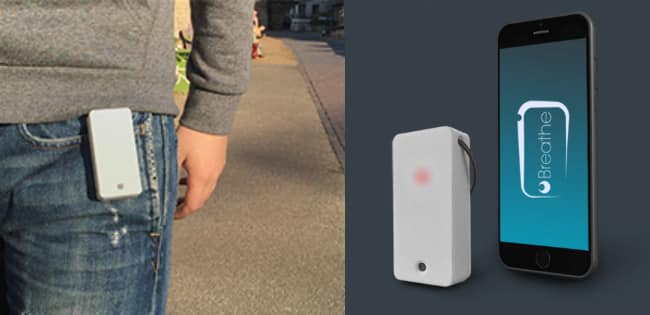 Breathe joins a host of connected projects and products that focus on air quality, both inside (AirBoxLab, Foobot) and out-of-doors (AirBeam, Tzoa). In an email exchange with Postscapes, Cox says he's not surprised that, among the often frivolous projects that fill the Internet of Things space, a number of designers are working to solve real problems like air pollution.
"This is totally a health issue," Cox writes, citing recent articles in the British press about the increasing health risks of poor air quality. "People are dying from the dirty air we breathe. It's getting attention because it matters."
Like Cox's previous IoT projects, which include BitTag and Flood Beacon, Breathe is a proof-of-concept rather than a fully-fledged product. He says these quick-turnaround projects were "great for exploring and general curiosity" and a good way to build technical and creative skills, but he intends to go beyond prototypes with his future work. "Longevity is now king," he says.
Learn more about Breathe at breathe.city, and check out Cox's full portfolio at SamuelCox.net.