Placemeter, a New York City startup that analyzes video feeds to create real-time data about real-world places, Thurday announced a $6 million series A funding round. New Enterprise Associates (which previously participated in the company's seed round) lead the investment, with participation by Qualcomm Ventures, Collaborative Fund, and other previous investors.
Drawing on public video feeds and those contributed by its partners (The company tries to harness individuals unused old Android and iPhone's laying around), Placemeter uses algorithms to quantify public-space activity — like how thick traffic is, and how fast it's moving; how many people are on line at a particular store; or how large the crowd is at an event.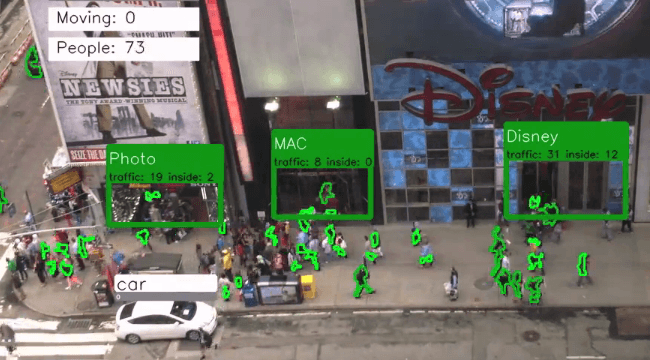 If you live in NYC, Placemeter will offer you cold hard cash — up to $50 a month — to provide a live video feed from your street-facing window. It has the trappings of a Big Brother-esque pyramid scheme, but fear not: Placemeter is adamant and up-front about protecting privacy, both of video providers and of the random people who happen to be caught on tape. The company promises that its algorithms only count cars and people, and don't track or identify individuals. None of the analyzed video is stored on Placemeter's servers.
This round of funding will allow Placemeter to expand beyond the Big Apple, with sights set on opportunities to apply its platform to retail, real estate, urban planning, transportation and other areas across the globe. NEA's Forest Baskett will join the board, while Qualcomm Ventures VP Quinn Li will tag along as a board observer.
Related: In-store analytics, Motionloft