Smart Shark Monitoring System
In our post about Wolfram Connected Devices and Thingful the other day we, speculated about whether the average person could find a use for data about the precise location of a shark (aside from marine biology research, of course). Well, it turns out the Department of Fisheries of Western Australia beat us to the punch: they put the sharks on Twitter.
The department's shark monitoring network uses long-lasting acoustic tags to keep track of sharks. As the name implies, the tags use sound to broadcast the shark's location in the water. A network of listening stations along the coastline sends updates by satellite connection whenever a shark comes near. That triggers an automatic tweet from Surf Life Saving Western Australia, a non-profit group that also tweets about shark sightings from helicopter patrols, calls to the Water Police tipline, and other sources.
More than 300 sharks have been tagged, and there are several dozen satellite-linked listening stations installed so far from Perth down to the southern coast. In addition to warning surfers and beach-goers, the network is gathering valuable data about the size and movement of shark populations.

The majority of the more than 160 shark species native to Australia pose little risk to humans. Common species like hammerheads generally bite only when threatened, and their bites are rarely fatal. Only three species are significantly dangerous: bull sharks; great whites; and tiger sharks, like the one(s) that tweeted from listening stations near Perth almost every day last week.
Tags and tweets are not a perfect system, however. The listening stations have a limited range, and there are untold thousands of sharks of all species that haven't been tagged. So the fact that there hasn't been a tweet doesn't mean the beach is safe. On the other hand, the presence of a shark -- even a tiger, bull or great white -- doesn't mean an attack is imminent. Shark attacks, while terrifying, are still very rare. WA Todayrecorded only a handful of attacks in Western Australia last year.
But to minimize that risk even further, Surf Life Saving has plenty of safety tips. The next time you're at one of Western Australia's beaches, keep them in mind -- and keep an eye on your Twitter feed.
Additional: WA Department of fisheries project site

Related: Twitter earthquake warning system
Featured in Channel: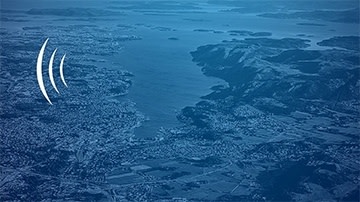 Connected Environment
A spotlight on the products and companies
View