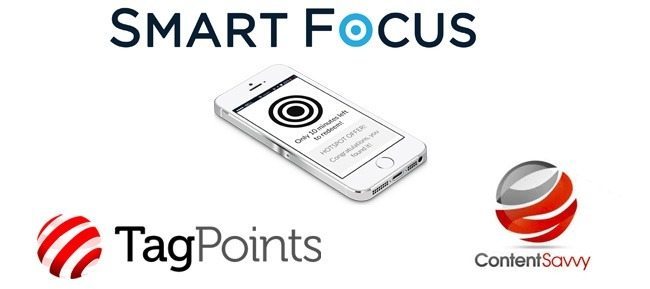 Digital marketing firm SmartFocus made two acquisitions last month, bringing the company closer to its goal of creating an "omni-channel" marketing system that, as one client put it, will enable brands "to communicate with our customers in a relevant, timely and targeted way, irrespective of where they are or what device they are using."
The first company, TagPoints, specializes in the use of proximity beacons to track and communicate with customers in real-world locations, like a retail store. Client companies create mobile apps that customers can download to interact with each brand's beacon system. The retailer gets detailed info about its customers' shopping behavior, and consumers get targeted messaging and product offers based on their actual preferences (proxied by which areas of the store or which displays they gravitate toward).
Content Savvy the second acquisition, uses sophisticated language processing to capture and understand consumers' online lives. By looking at trends across social media and other platforms, the company offers insight into customer behavior on a large scale and even claims it can predict an individual's intent to buy by analyzing an online conversation (say, the messages a fan leaves on a product's Facebook page).
SmartFocus works with large, global brands spanning many industries, from Mercedes-Benz to Speedo to HP, to deliver billions of marketing messages each year. With TagPoints and Content Savvy now under its own roof, SmartFocus hopes to provide a 360-degree view of the way consumers interact with brands, both online and offline, and to offer a variety of ways to target retail messages to the people who will be most interested in them.
Learn more about SmartFocus' approach to "omni-channel" and "context-aware" digital marketing in the video below.
Related: In-Store Analytics, Bluetooth Beacon Handbook