Uber expects to have a record night for its crowdsourced taxi service this New Year's Eve, and in the run-up to the holiday the company has been testing a usability improvement that could make it easier for riders and drivers to find each other amidst the crowds of revelers.
Spot, which was rolled out in the Seattle area at the beginning of December, adds a color-coding feature to the Uber app. When making a pickup request, riders select their favorite hue from a basic color wheel. If the driver has a Spot device, which seems to be a wirelessly connected light strip placed along one side of the front windshield, it will glow appropriately when the car nears the pickup location. Users can signal back by lighting up their phone's screen with the matching color.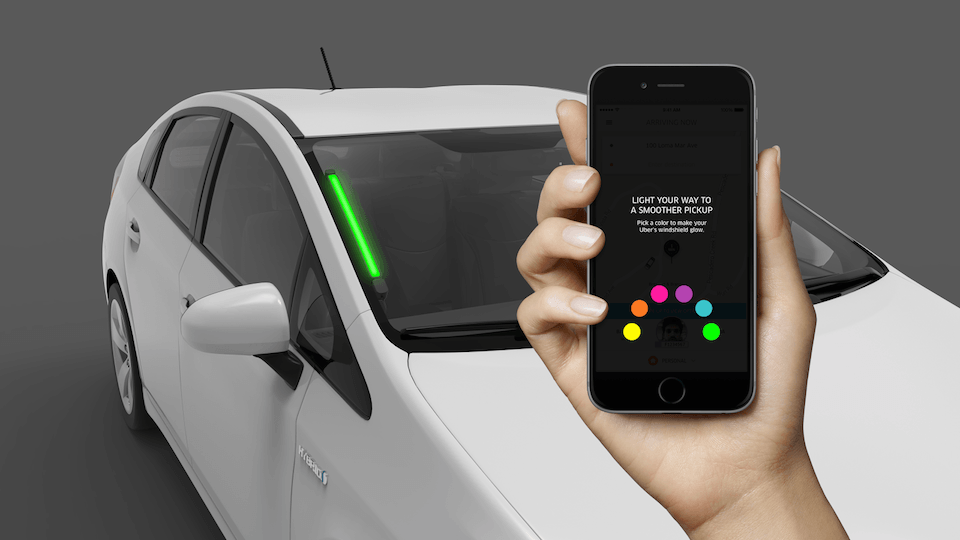 The new system isn't foolproof — it's unclear how Uber will ensure that people in the same pickup area don't all choose the same color, for instance — but it's a simple way to minimize the human error that is inevitably introduced when it comes time to find an unfamiliar car, at night, in the dark, through a crowd, while possibly inebriated. Spot is a reminder that a little bit of connected hardware can sometimes maneuver around a natural human roadblock in an otherwise app-driven process.
So if you're calling up a ride in Seattle this New Year's, let your true colors shine! And however you get around, stay safe and have fun. Happy 2016 from Postscapes!