Some futurists might see today's shiniest Internet of Things technologies as indistinguishable from garbage, but for IoT companies serving the waste management industry the clever phrase can take on literal meaning.
Compology, a three-year-old San Francisco startup, is applying sensors and machine intelligence to dumpsters and garbage trucks — and co-founder Jason Gates tells Postscapes that the team works hard to understand the specific needs of waste management and to design technology that gets the job done.
Gates calls garbage collection "one of the pillars of society." Any gadget that joins the process needs to be rugged and reliable, even at construction sites and other areas where connectivity can be spotty. Consumer IoT products can count on Wi-Fi or Bluetooth and prioritize aesthetics. When your product lives in a dumpster, not so much. "It needs to work every time, and it doesn't really matter much what it looks like," Gates says.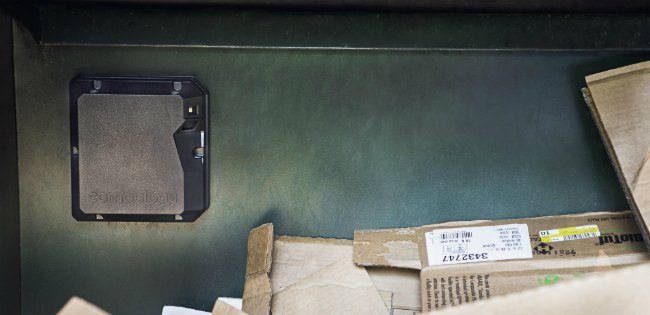 That's why Compology's battery-powered sensors are "built like a tank", as the company's website puts it, and use simple sensing technology: the humble camera. Images snapped by the sensors are transmitted over the cell network and processed by cloud-based algorithms to detect how full each waste container is.
By combining data from all the dumpsters a waste management company serves, Compology creates dynamic, optimized routes and schedules for collection. Gates says the system can reduce the number of trucks needed by 40 percent, and uses historical data to make educated guesses about containers in low-connectivity areas that can't report their status as often. "How we manage that is part of Compology's 'secret sauce'", he says.
It also helps to protect the waste hauler's margins, by revealing the actual cost of servicing each customer.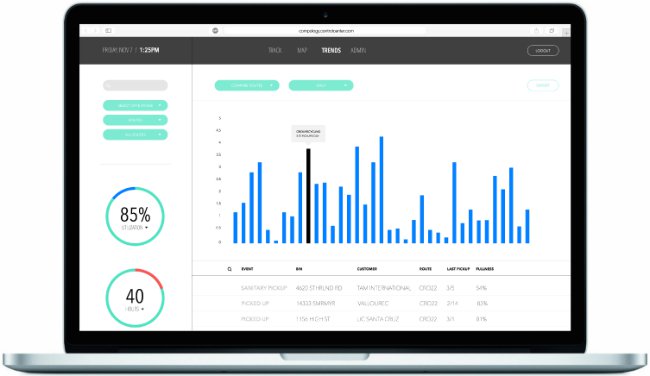 For truck drivers, Compology includes a purpose-built tablet that runs a custom application to deliver route information. Using standard hardware instead of a cross-device app allows for consistent design, which means everything from font size to screen layout can be optimized for safety and efficiency in the noisy, hectic cab of a garbage truck. "It's not cute," Gates says of the "tactically focused" application. "It's very functional."
Gates says Compology has customers across the U.S., from large operations to small fleets of just a few trucks — and the company is still growing its San Francisco team. Learn more at Complogy.com.