Enevo, a Finnish company that makes sensors for municipal waste management systems, announced a week ago that it has raised $15.8 million in new funding. The round was led by Foxconn, Ginko Ventures and Mistletoe, with participation from previous investors Earlybird, Lifeline Ventures,Finnish Industry Investment and individuals.
Using ultrasonic sensors to measure the fill levels of dumpsters and other waste receptacles, Enevo lets waste managers create dynamic, need-based trash pickup schedules. A web dashboard collects and analyzes the data, and generates routes and schedules that make sure well-used locations get a pickup before becoming overfull, while avoiding unnecessary pickups at locations that don't fill as quickly. Enevo claims that cities can experience direct cost savings of up to 50 percent on trash collection.
The sensors also include motion detectors and thermometers, which allows them to detect successful pickups as well as provide alerts about unusual events, like vandalism or trash fires. They are bolted to the inside of each dumpster and are powered by internal lithium-ion batteries that can last up to 10 years. They connect over the 3G cellular network to transmit data.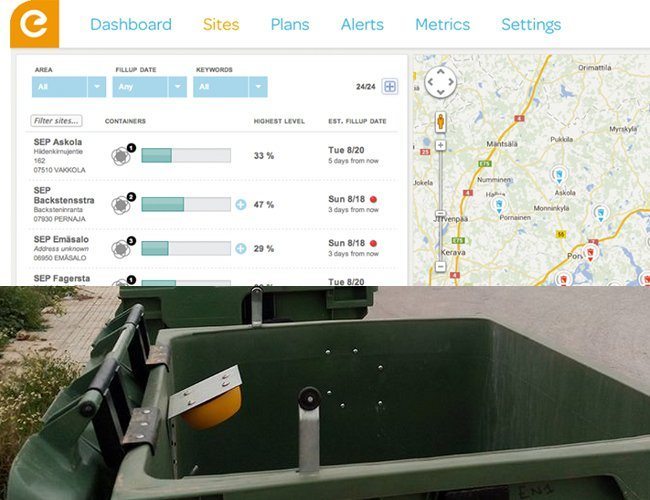 In March, Enevo joined the LoRa Alliance and announced that it would add support for LoRa and other wireless protocols, including Wi-Fi, in future versions of its hardware. As companies like Sigfox, Actility and Filament compete to deploy city-wide wireless networks for connected devices, this sort of network flexibility will be important for any product that hopes to be adopted by municipalities that join the "smart city" trend.
Enevo's technology is already in use by 145 customers in 35 different countries. With the new funding and the partnerships it brings, the company will be looking to expand its global footprint.
"With Foxconn as a strategic partner, we can make a paradigm shift in our wireless sensor hardware development and to expand [our] solution to additional verticals globally," said Fredrik Kekäläinen, founder and CEO of Enevo, in a statement. "Mistletoe opens up a broad network in Japan, one of our focus markets, as well as globally in the IoT, smart city and telecoms industries."
Previous Postscapes coverage
Related: Smart Trash, Trash Track, BinCam
Enevo Smart Plans from Enevo on Vimeo.