The polar bear has long been the most iconic symbol of the effects of climate change, as our carbon-heavy energy use gradually warms the planet and the poor bears' icy habitat melts away. No doubt that's why Dutch startup CareToSave chose a polar bear for the design of its home energy monitor,Hyko Bear.
Hyko is essentially a frosted white statue, meant to sit in an easy-to-see location and blend pleasantly with the decor. As a home's energy usage rises, the bear starts to glow — first blue, then shifting into red as electricity consumption spikes. From these gentle reminders, residents can develop a better awareness of wasteful habits like leaving lights or appliances on when not in use.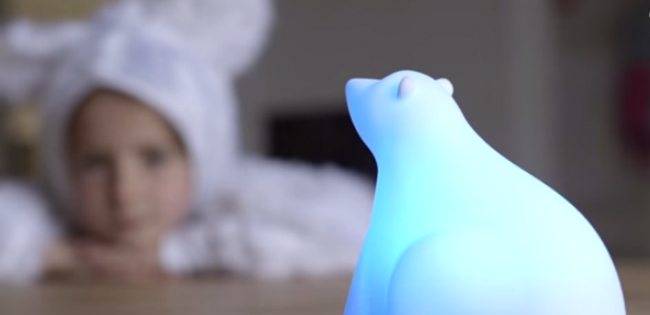 How does the bear know what's going on with the electrical system? A wireless sensor, of course! The device comes with a small box that clamps to the main cable near a home's energy meter. Data on the current flowing into the house is transmitted by an 868 Mhz radio, which is also used by other building infrastructure monitors such as some thermostats and fire alarms.
In addition to the light-up reminders, Hyko transmits its data to a cloud service that users can access through the Hyko World mobile app. It offers data visualisations, tips and tricks for cutting down on energy use, and "gamification" features like goals, missions, and competitions with other other users to see who can reduce their electricity bill the most.
The app also controls the bear's settings. Hyko can be set to glow based on moment-to-moment consumption or daily totals, and can provide other notifications like glowing a different color depending on the weather. It can even integrate with other home automation systems, such as IFTTT, so that using too much energy results in a home's smart devices automatically turning themselves off or creates a flood of stern email reminders to the whole family.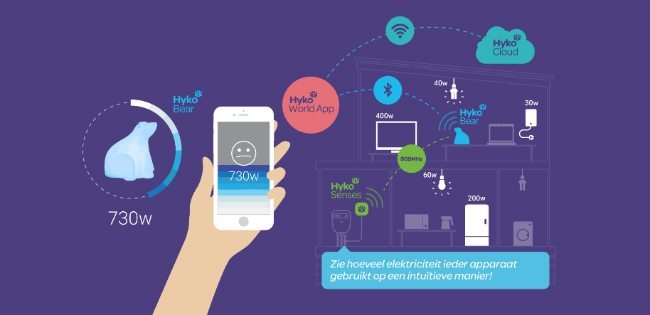 Making a family more conscious of its energy use is only part of Hyko's story. The rest of the tale is told in Hyko's Adventure, a digital storybook in which a super-powered polar bear learns how changes in energy use can help protect his species. The book was produced in partnership with Dutch energy companyStedin, and CareToSave plans to create sequels that will extend Hyko's story.
CareToSave received a €50,000 ($55,000) grant from SpeedUp! Europe in March. The company is now raising funds for Hyko on Dutch crowdfunding siteDoorgaan.nl, and hopes that a test in the Dutch market will help set the product up for an international launch in late summer 2015. Check out the video below to learn more.
Related: Smappee, Neurio, Ottobox, Smart Outlets Handbook