Belgian design firm Basalte makes what one reviewer called "the Maserati of light switches." With an elegant and minimalist design that belies the technology packed under the hood, as it were, the comparison may not be as far-fetched as it initially sounds.
There are several models of switches that operate similarly, with the flagship being the Sentido. The first thing you'll notice is that they're not really "switches" at all, having no toggles, buttons, sliders or moving parts of any kind. Sentido and its brethren are smooth touch panels made of sumptuous materials like bronze, nickel, glass, or even leather and come packed with built-in temperature sensors and integrated thermostat logic to control the heating and air-conditioning of a room.
Sentido is a square split into four quadrants by a frosted LED inset. Each quadrant activates different lighting presets, while pressing a palm across multiple quadrants provides the basic "on/off" switch for the room. A long press takes the panel into "scene sequencing" mode, in which users can swipe or tap to adjust presets for color, brightness, and other features.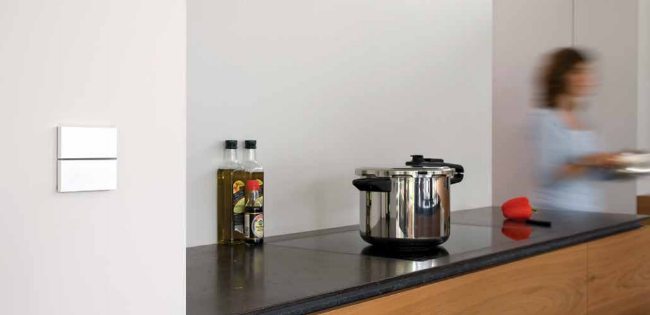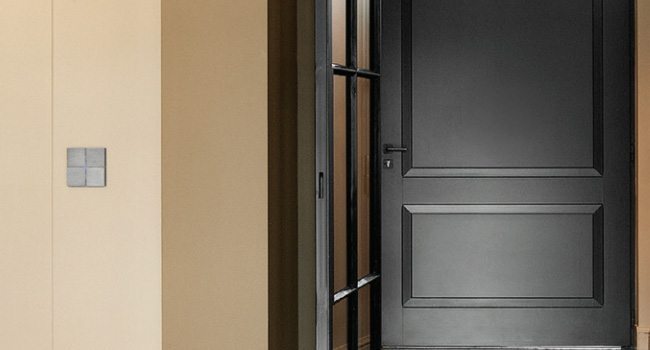 All of Basalte's products — which include thermostats, motion sensors, and audio systems — use the international KNX standard for home and building automation. Unlike many smart home products, they're not wireless; Sentido and the other switches are wired directly into the building's electrical circuits, and merge into a single digital interface thanks to KNX. That means Basalte switches can talk to other KNX-compliant products, such as window blinds or ceiling fans.
Basalte's buttonless, screenless, geometric designs are reminiscent of Apple's aesthetic: The lack of tactile, auditory, or even visual feedback (except for the abstract cues of the embedded LED strips) is balanced by a supposedly "intuitive" interface. While the touch gestures may be simple to perform, it's easy to imagine that an uninitiated houseguest might consider the Sentido's blank affect an unnecessary obfuscation.
Turning on the lights is one of the simplest tasks in a home, and is quite basic to human comfort. You don't need a luxury car to do it; but if you want one, Basalte has you covered.
Related: Ambient Data Displays, WiFi Lights