As California's fourth straight year of drought forces farmers to cut back on water use, even those who grow crops with relatively low water needs — like wine grapes — are feeling the pinch. And while the Internet of Things has brought a number of water-conscious smart irrigation products into the agricultural market, one California vineyard-owner has taken a DIY approach to creating a sensor-driven water conservation system.
Vinduino is Reinier van der Lee's open-source solution to the challenge of cutting back on water use by 25 percent — a voluntary measure that, for Van der Lee Vineyard, amounts to savings of 42 million acre-feet per year, more than five times what an average residential household uses.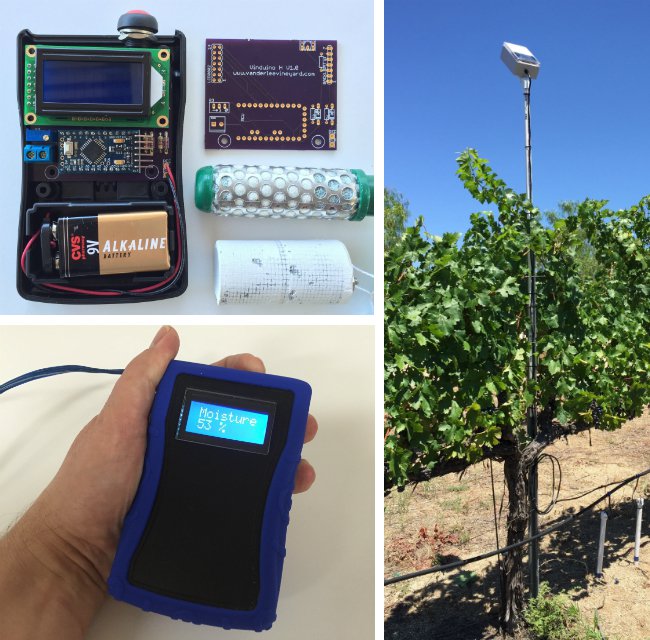 The project so far includes instructions for making your own soil moisture sensors (based on the gypsum mineral found in plaster of Paris); building a handheld Arduino-based device for taking sensor readings; and creating Arduino-based irrigation valves, water pressure sensors and data loggers for controlling and monitoring the vineyard's irrigation system.
In prototype stage is a networked, solar-powered sensor reading station that can report Vinduino sensor data via the Thingspeak platform. Van der Lee's future plans include designing a network hub for collecting readings from multiple sensor stations, and creating software that will be able to read and interpret the data and feed it back to the irrigation valves — closing the loop on fully automated watering.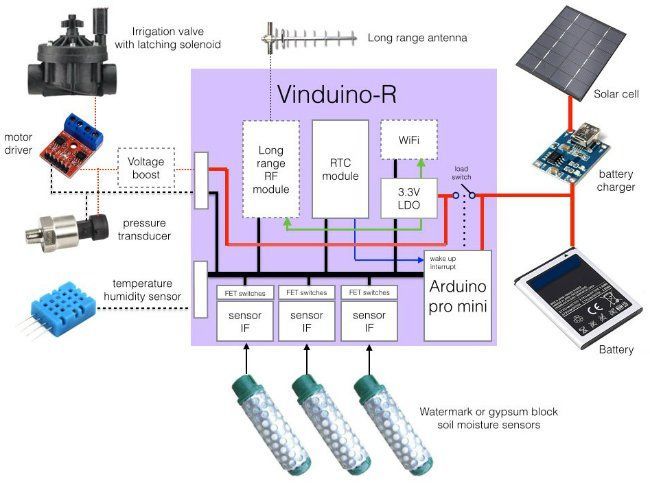 Van der Lee says that one of his primary motivations for building Vinduino was to innovate on commercial soil monitoring systems that typically rely on readings from a single sensor. Vinduino uses three sensors at different depths to get a better handle on the way water moves through the soil at each measurement point. It also doesn't hurt that Vinduino can be built cheaply, out of readily available components.
"As a small vineyard owner, I needed something low cost and flexible," van der Lee explains at the project's GitHub page. "The open source Arduino platform, together with low cost gypsum soil moisture sensors, provides all that."
Check out the video below to learn more.
Related: CropX, Phytech, Open Garden, Smart Irrigation Controllers