Outfitting a 100-acre field with an intelligent, Internet-connected irrigation system might sound like a complex industrial endeavor — but Israeli startup CropX aims to make it as simple as sticking a soil moisture sensor in your lawn.
In a 2013 survey of U.S. farms and ranches, the Department of Agriculture found that only 10 percent of farmers use technology in making irrigation decisions. Michael Dowgert, CropX's VP of sales and marketing, tells Postscapes that low figure is due in large part to the complexity of the measuring instruments that have been available.
"If you're going to have to bring in a scientist to help you analyze the data, you might as well go out and feel the soil with your hands," he says. And that's no slight to farmers' fingers, which can tell a lot from touch — it just means that for technology to take root, it has to be easy to use.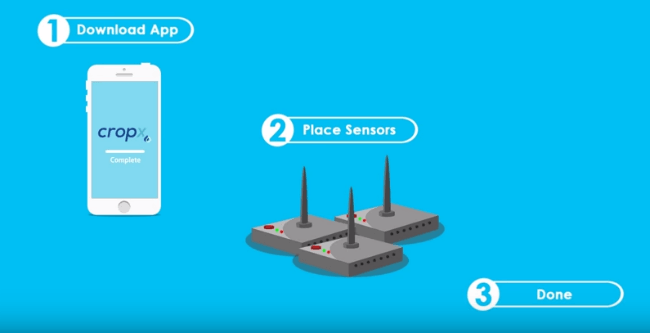 CropX's system starts with soil maps. These are available from government agencies like the USDA and USGS, but Dowgert says many farmers already have their own, more detailed surveys of their fields — sandy over here, more clay-like over there, and so on. By uploading the soil type data to CropX's cloud servers, the company's algorithms can combine it with other factors like topography and sun exposure. "How water will behave in the soil really depends primarily on those three things," Dowgert explains. "You don't manage your water from above, you actually manage your water from below."
Once the field has been analyzed, all a farmer has to do is plant a handful of soil moisture sensors in the ground according to a zoning map generated by the software. Saturating the soil during installation lets the sensors self-calibrate: They compare the actual drying rate of the soil to what was predicted by the algorithm, and adjust for any differences.
From then on, the system can provide a watering plan that is tailored to the specific needs of the soil in each zone. The sensors take readings every 20 minutes, so they can account for rainfall and other changes, and make sure that farmers only add as much water as the crops need. In a basic setup, a farmer might refer to the CropX app when setting a manual watering schedule; for a more wired-up farm, CropX's software could be fully integrated with the irrigation equipment to control watering automatically.
Each sensor is battery-powered for up to two years with either a pair of AAs or a rechargeable battery pack. Data is transmitted through the cellular network, and CropX handles the data plans as part of a user's subscription package, with fees based on acreage.
Although CropX was initially designed for pivot-style irrigation systems (in which a boom rotates to spray water around a circular field), Dowgert says farmers have also been clamoring for compatibility with drip- and flood-based irrigation systems. "Anybody who wants to manage their water better has had a very positive response to the technology," he says.
In June, CropX closed a $9 million Series A funding round that included Finistere Ventures, Innovation Endeavors, GreenSoil Investments, and previous CropX investor OurCrowd. As the company looks to expand its team and bring its product to market, Dowgert says the primary opportunity is in retrofitting the hundreds of thousands of irrigation systems currently in use on American farms. CropX will also seek partnerships with distributors and manufacturers, so its product could be included with sales of new equipment. And future versions of the CropX hardware could include different sensors to collect data about soil fertility or other aspects of crop health, allowing the company to tap into markets beyond irrigation.
"The Internet of Things is only going to grow on the farm," Dowgert says.
Check out the video below to learn more.
Related: Phytech, Farmobile, Apitronics, WellIntel, OnFarm