It's been said that there are three things nobody leaves the house without: wallet, keys, cell phone. With the rise of digital payment services like Google Wallet and Apple Pay, the phone has started to replace the wallet—and smart locks will soon let it replace our keys, too. Sesame is not only the latest product to enter this burgeoning market, but also one of the most elegant retrofit solutions yet available to bring the venerable lock-and-key into the digital age.
Most smart locks replace part or all of a door's deadbolt mechanism. Not Sesame. It fits over the existing thumbturn on the inside of the door, affixing with an adhesive strip. Because the original lock mechanism remains in place, you can continue to operate the lock with keys from the outside, and you can twist Sesame manually to operate it from the inside. But Sesame can also be triggered by a nearby smartphone.
"Sesame is not a technically a 'smart lock'," write the inventors at Candy House, a startup founded by Stanford students. " Sesame is a small ROBOT that locks/unlocks the door for you."
Though the inventors are protective of their patent-pending mechanism, the basic idea seems pretty simple: The device grips either side of the thumbturn and rotates it back and forth. (See the prototype in action here.) Candy House claims Sesame is compatible with almost any deadbolt thumbturn, and even works with locks that need a key inserted on the inside.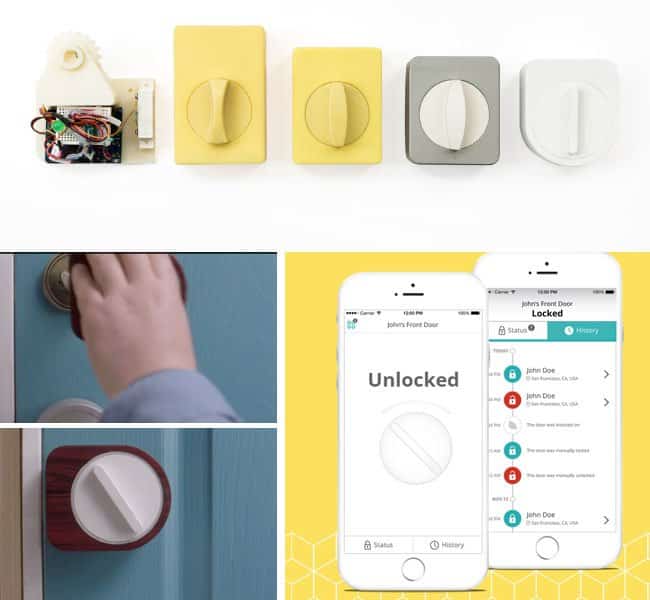 Putting physical keys aside, Sesame lets you lock and unlock your door in one of three ways. First, with a single tap on the home screen of the smartphone app. Second, by rapping twice on your phone—while it's still in your pocket. Or third, by tapping out a "secret knock" on the door. Those vibration-based features would be intuitive for anyone, and would be especially welcome for those with limited mobility.
Sesame relies on a Bluetooth Low Energy connection to detect nearby smartphones and make sure an authorized user is the one knocking, while an optional Wi-Fi extender bridges the gap between Sesame and the rest of the Internet. The extender plugs into an outlet, pairs with Sesame over Bluetooth, and lets you operate the lock and change the settings from anywhere in the world. Permissions can be extended to other users through the app; you can set a schedule for when each person has access, and can set notifications and view records of who has used (or tried to use) the lock and when.
Part of the reason for separating out the Wi-Fi was to prolong Sesame's battery life. It uses standard-size replaceable batteries—Candy House includes a pair of Lithium cells for the best performance, which it says should last more than a year—and that means the lock will still work for local access even during a blackout.
Candy House seems to recognize that a device can't secure your front door if it's not secure itself. All of Sesame's communications are secured with military-grade encryption, and the software will be open-source so anyone can verify that it works as Candy House promises…or make it even better.
Sesame's Kickstarter campaign has already quintupled its goal. Fundraising continues through April 26, and Candy House plans to ship in May. Hopefully that aggressive schedule won't end up with the endless delays, battery life problems and other issues that have plagued last year's smart lock sensation,Lockitron. (Candy House says the difference is, simply: "The people.")
Learn more about Sesame in the video below.