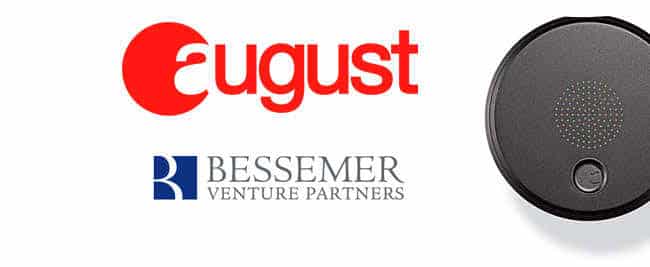 Smart-lock maker August announced last week that it has raised $38 million in a Series B investment round. Bessemer Venture Partners led the round, with participation Comcast Ventures andQualcomm Ventures, plus additional support from previous investors Maveron, Cowboy Ventures,Industry Ventures, Rho Ventures, and SoftTech VC.
The $250-dollar August Smart Lock a battery-powered, Bluetooth-connected replacement for part of the deadbolt mechanism on the interior side of a door. It can lock and unlock the door based on smartphone commands from an authorized user, and the company is beta-testing a feature that unlocks the door automatically as a user approaches. An optional Wi-Fi extender connects the lock to the Internet so it can be operated remotely.
Last week's investment brings August's total raised to $50 million since their start in 2012. That funding base, plus the cachet of co-founder and design guru Yves Béhar (His firm fuseproject is also behind designs of connected products Edyn, Vessel, and Jawbone UP) helped it become one of the first smart-lock companies to get a product to market—it debuted at Apple Stores last fall and is now available at Best Buy.
This year, however, August will face competition from crowd-funded alternatives like Lockitron, Goji, and Sesame, which are all nearing production this spring.
Related: Smart Door Lock Roundup, IoT Investments