This Bluetooth enabled door lock was created as an Instructable by 17 year old Collin Amedee for the2012 Arduino Challenge.
Licensed under a Attribution Non-commercial Share Alike the kit of parts include: An Arduino (Instructable uses a Duemilanove), Electric Door Strike, Bluetooth Module ($9.99), TIP120 Transistor and an Android phone running a Bluetooth SPP app.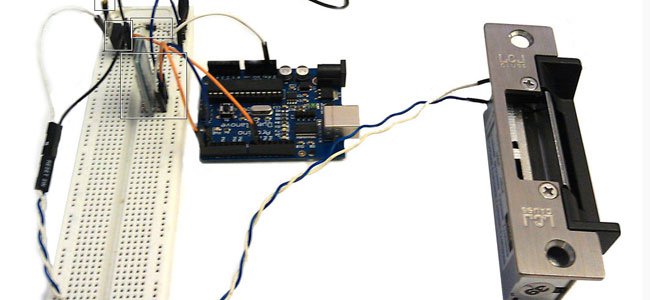 "After you install one of these Bluetooth SPP apps, you can pair with your bluetooth modem connected to the Arduino. If it asks for a key, it will usually be by default "1234" (without quotes of course). After that, you should beable to send ABCD and the door strike will unlock for around 5 and 1/2 seconds, and then lock itself again."
The complete instructions and code samples can be found here or you can see a demonstration of the locks in action below.
Additional wireless door lock solutions.