I remember the first time I stayed in a hotel that used magnetic key-cards instead of old-school keys. It felt so stylish, so futuristic — like I was a secret agent with top-level clearance to a secure government building. Well, folks, the bar has been raised again: a pair of luxury hotels in New York and Silicon Valley are about to start piloting a system to let guests access their rooms using their smartphones.
The two Aloft hotels will still have front desks, of course. But guests will have the option to check in through an app, so when they arrive they can breeze straight up to their rooms and let themselves in — no keys or cards required.
The app uses Bluetooth to communicate with the door lock. A promotional video shows off a gestural component that's clever, but a little hokey: to unlock the door, you hold your phone up to the lock, then twist your wrist 90 degrees as though you're throwing the lever on a deadbolt. It looks cool but seems like it would be annoying in practice, especially when juggling luggage or in a rush. Better to have the door recognize the phone while it's still in your pocket and unlock when the you reach for the handle, like the keyless entry systems on many cars.
Another caveat: like many of today's Bluetooth gadgets, you'll need a fairly recent phone for this to work. An iPhone 4S or newer, or any Android running 4.3 or newer, will get you in the door (so to speak).
Each lock is battery-operated, so it will function even if the hotel has a power outage. The locks were developed by Swedish lock maker Assa Abloy.
Last month Aloft's parent company, Starwood Hotels and Resorts, told The Wall Street Journal it plans to roll the locks out to more than 100 hotels over the next two years.
Watch the video below to see the high-tech hotel door in action.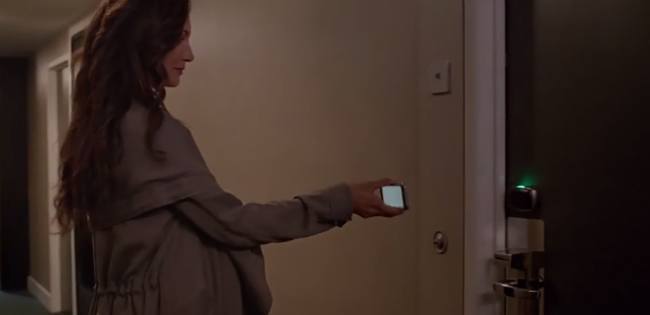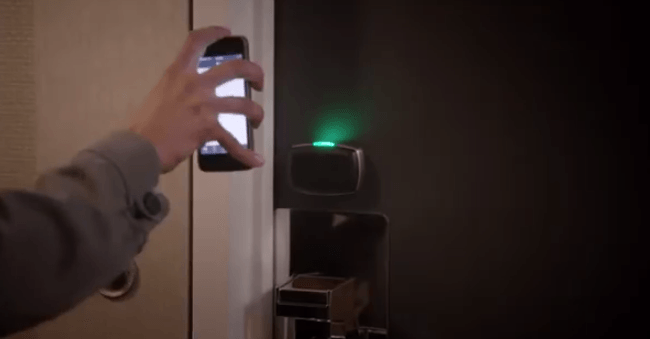 Related: Wireless door lock options, Nymi

H/T: WSJ