Founded by industry veterans Adam Dunkels, Fredrik Österlind, and Roger Bergdahl out of Stockholm in 2012 Thingsquare aims to facilitate the quick building of proof-of-concept connected products with their new development kit.
Unlike most Internet of Things solutions the Thingsquare system does not depend on a resource heavy gateway device. Instead, all of the devices are connected directly to the Internet using a simple Ethernet connected router that needs only kilobytes of memory to operate. This single router in combination with self-healing mesh networking nodes can stretch out a single network to cover city sized scales.
The kit is built on the low-power 2.4 GHz System-on-a-Chip (CC2538) from Texas Instruments, and contains an ARM Cortex M3 driven microcontroller and integrated radio. All of Thingsquare code is based on open Internet standards like IPv6, RPL, and 6lowpan and with a push of a button the cloud-based IDE can compile and deploy over-the-air updates to all or just one of the nodes in a network.
The Thingsquare system is already in use in the LIFX smart light and tado thermostat system but the team also sees it being deployed in applications ranging from city street lighting and large scale wireless sensing networks, all the way to other consumer facing connected home products.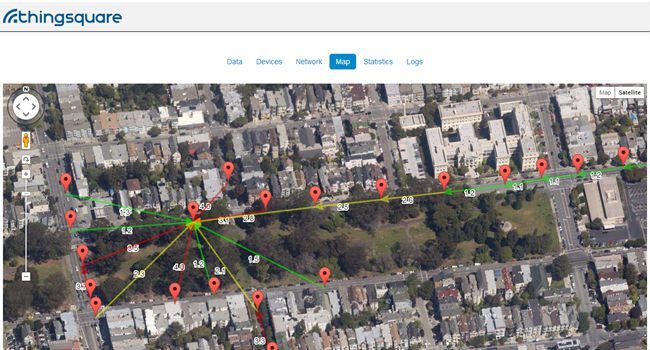 More details about Thingsquare and the technology behind the kit can be found at: Thingsquare.com/kit/
Related: Internet of Things Hardware

Additional: BBC, ComputerWorld