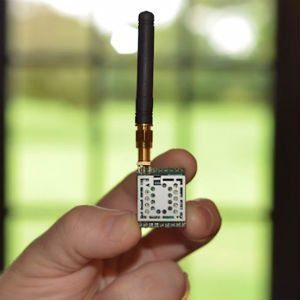 LoRa Network Protocol and Long Range Wireless IoT
LPWAN Internet of Things (IoT) Networking Technology; A guide to the standard and its coverage, protocol stack, range and compatible chips and gateways...
Connected devices have so far mostly run piggyback on the same networks and protocols that support the Internet and mobile communications — cellular, Wi-Fi, Bluetooth, etc. But embedded sensors and other distributed Internet of Things devices have different network requirements than those of computers, phones or tablets. When humans use the Internet we access data irregularly and in large chunks like websites or streaming videos. Remote sensors and smart machines, on the other hand often only need to send small packets of data at regular intervals, and need to connect in areas away from the traditional infrastructure and a convenient power supply.
Several technologies are starting to address the unique network needs of this class of IoT devices.
The following Channel Guide will help you:
Better understand where LoRa fits in as compared to other LPWAN solutions like the Sigfox network and NB-IoT.
Dive deeper into solutions and vendors offering compatible chips, modules and gateways
Give a better snapshot of technical stack, including frequency bands and expected battery life and range.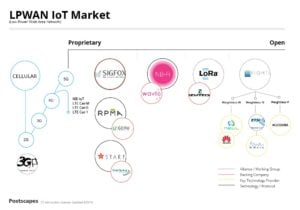 EMnify
EMnify is a leading cloud-native IoT connectivity provider that empowers businesses worldwide to get the best out of their devices and overcome industry barriers. EMnify's connectivity is available in 180 countries with 540 operators globally.
Basics:
LPWAN stands for Low-Power Wide Area Network
Current Issue: 2G Networks are being sunset (AT&T on January 1, 2017 with other major carriers to follow..) and are not fully suited to IoT applications due to battery life constraints.
- Next gen cellular proposals (LTE MTC) targeting IoT applications are not ready for deployments until 2018 so there is a current gap in the market .
LPWAN Benefits
Generally uses unlicensed spectrum (868 MHz in Europe and 915 MHz in US for example)
Range: From a few kilometers in dense urban areas up to 15-30 kilometers in rural areas
Power: 10+ years of battery life (The device's power produced cannot exceed 10-25 mW, to comply with usage of ISM frequencies, and to limit data consumption and preserve battery life.)
Radio Chipset cost: $2 or less
Radio Subscription cost: $1 per device/ year
Additional Highlights
LPWA most suited for on/off type applications with only a few messages per hour.
5-10x fewer base stations required than 3G/4G
LPWAN capabilities will eventually be integrated into 5G service base stations
LoRa
LoRa: PHY layer
LoRaWAN: MAC, NWK, & APP built on LoRa
LoRa is a patented ( EP2763321 from 2013 and US7791415 from 2008 ) spread-spectrum radio modulation originally developed by Cycleo (Acquired in 2012 by Semtech)
Semtech owns the LoRa IP, but have licensed the IP to other chip manufacturers like STMicro in 2015 in 2015.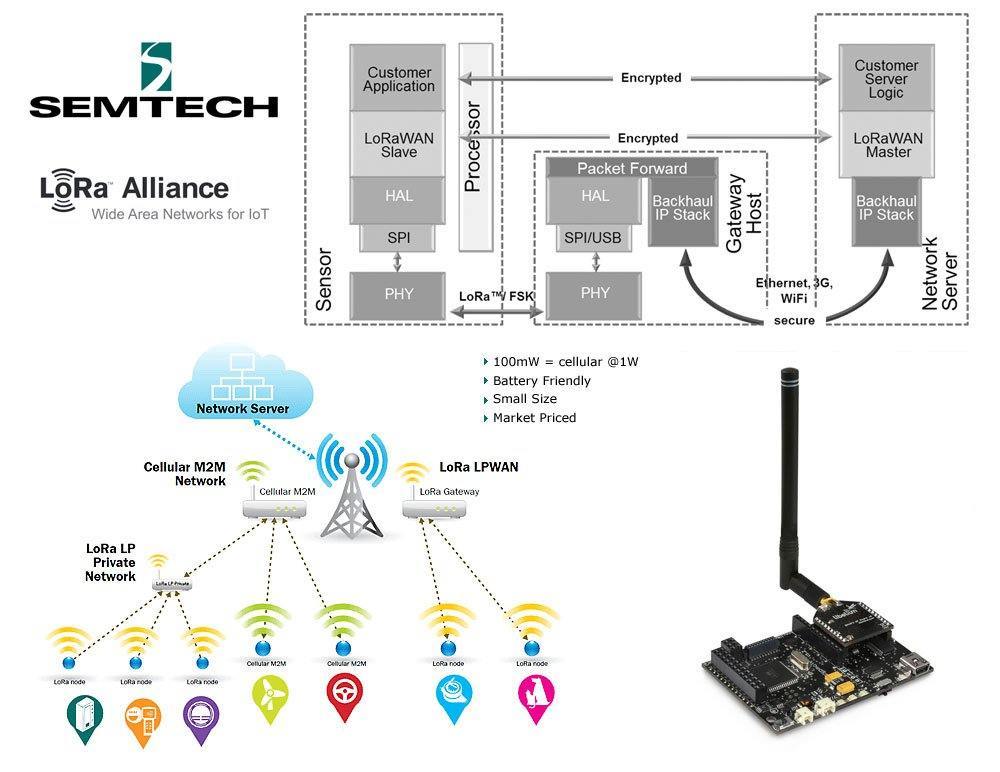 Semtech's LoRa chips transmit in the sub-gigahertz spectrum (109MHz, 433MHz, 866MHz, 915MHz), which is an unlicensed band that has less interference than others (like the 2.4 GHz range used by Wi-Fi, Bluetooth, and other protocols). At those frequencies, signals penetrate obstacles and travel long distances while drawing relatively little power -- ideal for many IoT devices, which are often constrained by battery life.
Within the sub-GHz spectrum, LoRa chips use a spread-spectrum strategy to transmit at a variety of frequencies and data rates. That allows the gateway to adapt to changing conditions and optimize the way it exchanges data with each device.
Semtech produces transceiver chips for devices to be connected (nodes), and gateways to connect them. A single gateway can communicate with several hudred thousand nodes up to 20 miles away in unobstructed environments, and even in a city can penetrate buildings to achieve a range of several miles. End-nodes can remain operational for a supposed 10 years running on two AAA batteries (drawing 10mA for the receiver, under 200nA in sleep mode).
An industry collaboration focused on promoting LoRa was unveiled at the 2015 Mobile World Congress in Barcelona. The LoRa Alliance is a non-profit, open membership organization. Founding companies include technology suppliers and telecom operators:
Tech Suppliers
Telecoms

Actility
Cisco
Eolane
IBM
Kerlink
IMST
MultiTech
Sagemcom
Microchip Technology

Bouygues Telecom
KPN
SingTel
Proximus
Swisscom
FastNet (part of Telkom South Africa)
Cellular
EC-GSM-IoT for 2G networks
LTE-MTC (LTE for machine-type-communications)
NB-IoT - Can use both 2G and 4G spectrum
LTE-Advanced Pro, 5G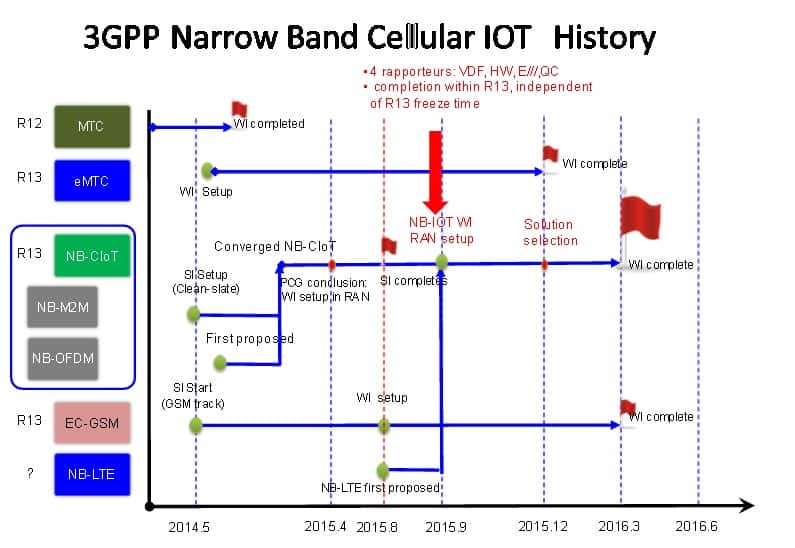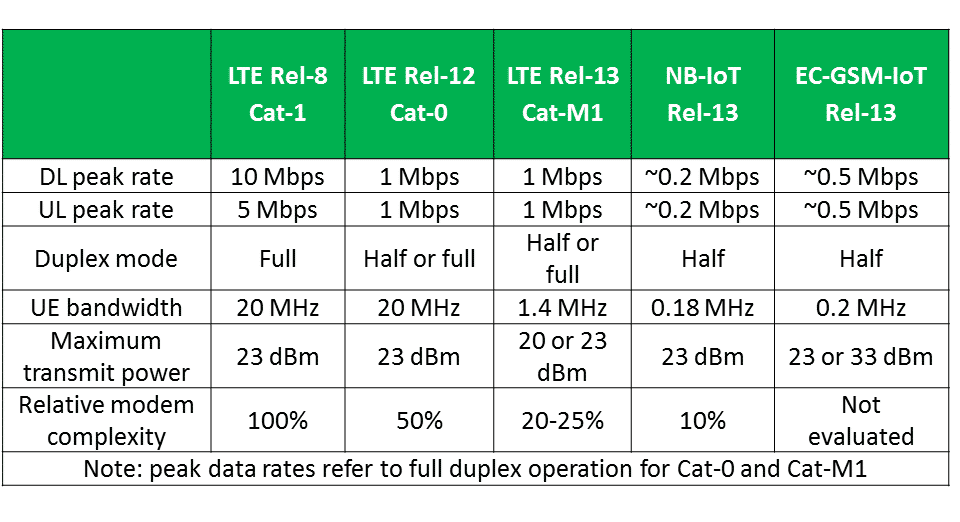 Weightless
Weightless-W (Original - Whitespace focused)
Weightless-N (Born out of NWave's technology.)
Weightless-P, (Born out of M2COMM (Platanus) technology
Weightless Standards Comparison
RPMA - From Ingenu
Created by Ingenu (formerly OnRamp Wireless) their RPMA LP-WAN (random phase multiple access) uses 2.4 GHz ISM so that it avoids some of the geographic differences compared to other solutions using license free bands.
RPMA's uplink capacity cann support up to 2 million devices per tower.

NB-Fi (Narrowband Fidelity) - WavIoT
"NB-Fi LPWAN technology covering a full stack of OSI model layers from physical PHY to application APP. Full duplex gateways based on bi-directional SDR principles accompanies with 3 × 120-degree sector antennas and self-designed SDR receivertransceiver result in the sensitivity of -154 dB and ensure a total link budget of up to 194 dB. The effective distance proven in numerous use cases is more than 50 km in the countryside and 16 km in the urban area.

"

"Open Standard"
Supporting radio hardware and compliant MAC architectures in 915 MHz, 868 MHz, and 433 MHz ISM bands, as well as other sub-GHz license-free spectrum.
Additional:
CyNet, Silverspring Starfish, Dash7, Wi-Fi HaLow, Telensa Ultra-Narrow-Band
Alliances & Governing Bodies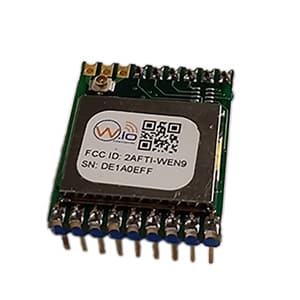 WhiskerRF is a long-range, low-power wireless module from Digital Six Laboratories. It's designed for Internet of Things applications where a single WiFi access point wouldn't reach far enough, and the data-sharing nodes of a mesh network would draw too much power.
At the heart of Whisker is a long-range radio technology called LoRa, developed by Semtech. It combines with Renesas' low-power RL78 microcontroller and Digital Six's own OpenRF wireless protocol to deliver more than four miles of range and more than five years of operational life on a pair of AAA batteries.
Whisker modules include a break-out board that can accept power from batteries, USB or a DC source, and feature plug-and-play "Sidecar" boards that make it easy to set up Whisker for a variety of environmental sensing tasks (Sensors include temperature, humidity, and GPS) or integrate it with other exisiting projects or prototypes. There's also a suite of compatible sensors (including some from Adafruit and Sparkfun) that can be wired directly to the break-out board.
To create a Whisker network, one module is designated as the master and acts as the hub for other Whiskers in range — developer kits include a "network manager" module that's ready to be plugged into any computer's USB port. Individual nodes can then be set up using the Whisker Network Visualizer app and visualized using a tool like open data platform provider ThingSpeak.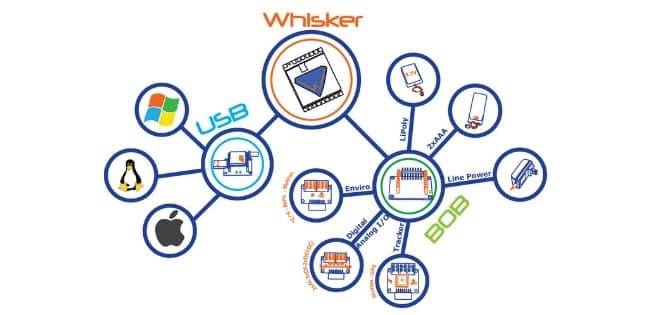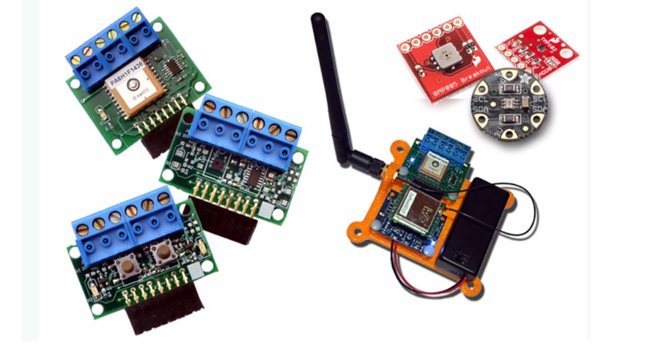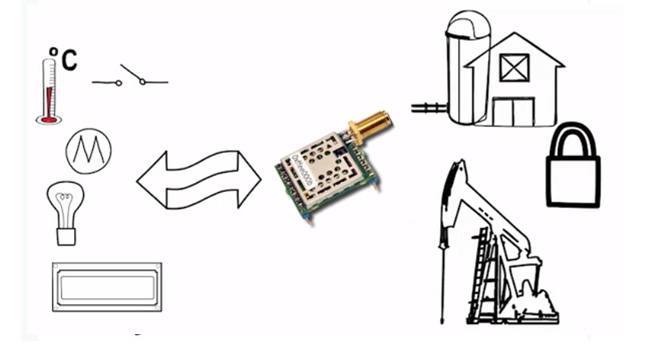 Though Whisker can handle all of the smart home uses that other IoT development kits and products target, its strengths point towards environmental sensing and rural applications where power is scarce and wide areas need to be covered. It's also on the technical end, likely to require a bit of soldering and some programming know-how.
Case Studies / Applications
End User Products
Deployments
DIY
Business
Market Size:
Key Acquisitions:
Startups:
Resources
Websites
Presentations
Comparisons
Additional Reading
Reports
Articles