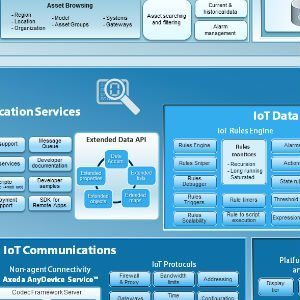 IoT Cloud Platform Landscape
Find and compare IoT Cloud Platform providers. Quickly narrow your choices based on your feature requirements, vertical market focus and vendor hardware integrations.
Developing for the Internet of Things is a complex endeavor, and nobody wants to do it from scratch. IoT data platforms offer a jumping-off point by combining many of the tools needed to manage a deployment from device management to data prediction and insights into one service.
Providers of platforms include pure-play 3rd party platforms, hardware vendors, connectivity providers, and system integrators.
The following Channel Guide will help you:
Help narrow down your platform requirements (end-to-end, open source, etc)
Filter based on feature sets, API, architecture, apps and pricing.
Comparisons based on platform focus (analytics, mobile, device integrations)
A closer look at an innovative platform in the IoT Platform market
IoT Cloud Platform solutions backed by large publicly traded companies.
Data management services with open source licenses
Popular maker friendly platforms with integration with Arduino, Raspi and other DIY hardware platforms
Overview of IoT platforms designed from the ground up based on supplied hardware
Highlights
Products combine plug-and-play sensors, wireless connectivity, and rich cloud-hosted software
Includes end-to-end solutions for Fleet tracking, and Industrial IoT applications like remote monitoring for Cold Chain and Condition.
Website
User & Technical
Highlights
Full-Stack: Hardware, firmware, software and cloud
WiFi and Cellular-connected hardware
Website
Comparison of providers where connectivity is the primary entry point to data management platform
Highlights
Pay-As-You-Go Plans (Coverage in 100 Counties)
Safely deploy and manage firmware across your devices
integrate your product with other web services
Website
Reviews
User & Technical
A directory list of platform providers based on feature sets, hardware/language support, etc
Common IoT Platform Features
| Edge | System Management & Connections | Insights & Actions |
| --- | --- | --- |
| Device / User Management | Cloud Connectors | Dashboards / Visualizations / Apps |
| Roles & Permissioning | Event Logic / Alerts | Application Builders |
| Local Cloud Gateway | Subscriptions / Billing | Data Marketplaces |
| Libraries Adapters / SDKs | APIs | Turn-key Vertical Applications |
| Security & Access Controls | OTA firmware and software updates | Predictive / Prescriptive Analytics |
| Identity Management | Storage / App Hosting | Voice Interface / AR / MR / VR Integrations |
In-depth Technical Comparisons
Making a decision:
Major Acquisitions in Platform Space
Acquired Company / Purchaser | Date | Amount
2016
2015
2014
2013
2012
2011
View Complete list of IoT acquisitions here.