Single-board development computers aren't quite a dime a dozen—but they're getting close. The latest contender for low-price leader is Next Thing Co.'s C.H.I.P., which packs Wi-Fi and Bluetooth connectivity alongside fairly impressive specs for this kind of computer. And it only costs nine bucks.
To hit a price point only slightly higher than dirt, Next Thing Co. is leveraging economies of scale through a partnership with Chinese manufacturer Allwinner. C.H.I.P. is built around Allwinner's A13 system-on-a-chip, which is a popular choice for low-cost Android tablets.
Complementing the 1Ghz processor are 512 MB of RAM and 4 GB of flash storage, Wi-Fi and Bluetooth connectivity, standard and micro USB ports, and a composite AV jack that can output video and audio to many TVs. Like its cousins in the Arduino and Raspberry Pi ecosystems, C.H.I.P. can also be extended with snap-on "shield" modules—specifically ones that output video over VGA and HDMI to expand display options.
But the most interesting add-on by far is PocketC.H.I.P., an enclosure that turns the little board into something between a GameBoy and an iPad. With a small QWERTY keyboard, pressure-sensitive 4.3-inch LCD touchscreen, and built-in rechargeable battery, PocketC.H.I.P. is a fully capable and portable standalone computer.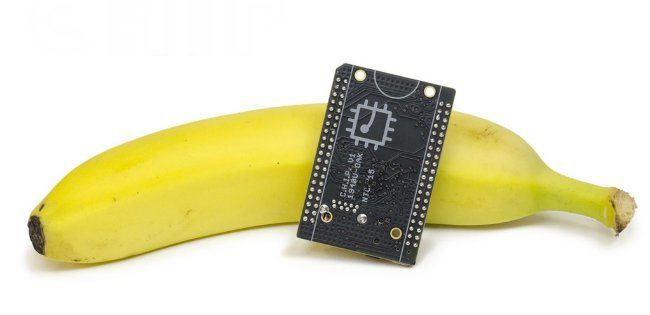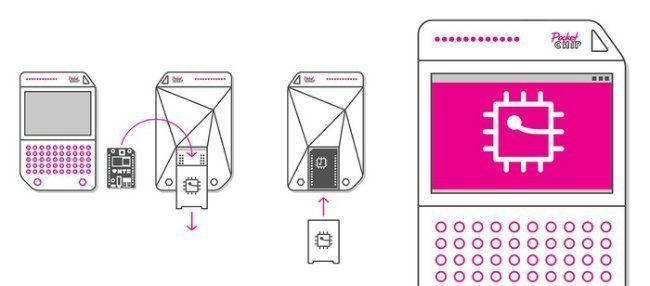 C.H.I.P. runs a slimmed-down version of Debian Linux. In addition to a few dozen preloaded applications, thousands more Linux programs are available for download. Imagine running a full desktop OS—web browser, word processing, games, etc.—on a computer that costs less than a movie ticket!
Next Thing Co. is committed to making C.H.I.P. fully open-source, and says it has Allwinner's cooperation to make all of the documentation, source code, and hardware design files available to the community just as soon as the designs are finalized. In the meantime the company is raising funds on Kickstarter—and it needs to raise a lot, as the $9 price depends on placing an order in the tens of thousands of units. Luckily, Next Thing Co. has some experience delivering on a crowdfunded campaign for its OTTO camera, so the team should be able to make good on its promise to deliver C.H.I.P. to backers by the end of the year (or in early 2016 for those who ordered add-ons like PocketC.H.I.P.).
Learn more in the video below.
Related: ESP8266, IoT Prototyping Hardware