In recent months a quiet buzz has been building among the Internet of Things maker and developer communities, and the word on everybody's fingertips is: ESP8266.
OK, that's not exactly a word. It's the designation of a range of tiny new, low-cost Wifi microcontrollers based on an ESP8266 SoC with an integrated TCP/IP stack and Xtensa processor. Designed by Shanghai-based Espressif Systems, the ESP8266 is available in a number of compact modules from various manufacturers — often for as little as $2.50 a pop if you buy in 100 bulk orders.
Though it was originally created as an adaptor to convert the one-bit-at-a-time serial communication used by most wired computer systems into free-flowing Wi-Fi radio signals, and despite the original documentation being almost entirely in Chinese, hardware enthusiasts around the world quickly realized that the ESP8266 wasn't limited to that niche use. An english-language community has sprung up around esp8266.com, with forums and a wiki for users to share knowledge and ideas as they've experimented with getting various programming languages and development tools up and running.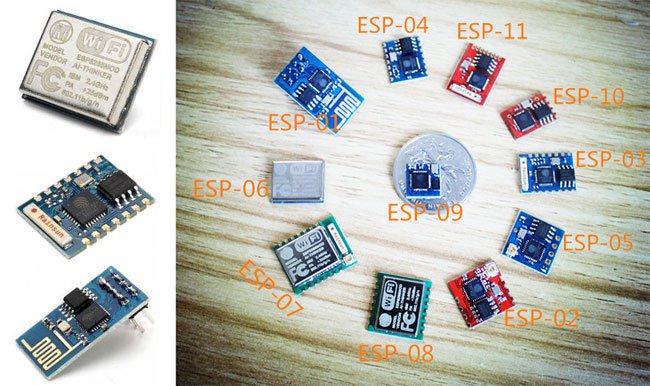 Image Credits: AliExpress & esp8266 wiki
The most recent success, and possibly the one that will turn the ESP8266 from an indie phenom into a pop diva of the IoT, was the release this past weekend of a port of the Arduino Integrated Development Environment. Arduino already has a huge community of developers who know how to write code for it, so being able to natively program the ESP8266 through a familiar IDE — along with the incredibly low price point — makes it immediately accessible to a much wider audience.
As more and more people embrace the ESP8266 as a cheap, small and effective way to get low-impact devices connected to the Internet of Things, we're sure to see the hardware also become more accessible. In fact, an ESP8266-based IoT prototyping kit, complete with add-on "shield" modules, is already in the works from Phasor.
Additional Resources:
Sample Specs for the ESP-01:
SoC – Espressif Systems ESP8266 32-bit RISC processor with 802.11 b/g/n support(32-pin QFN package),
Interfaces: SDIO 2.0, SPI, UART, I2S
Wi-Fi – 802.112 b/g/n with WEP, TKIP, AES, and WAPI engines, Wi-Fi direct (P2P), and soft-AP
Header – 8-pin header with GND, VCC (3.3V), Rx and RX, and 4 NC pins.
Standby power consumption – < 1.0mW (DTIM3)
Dimensions – 21 x 11 mm
Weight – 3 grams
Community
Tuturials:
Tools:
Projects:
Where to buy:
Related:
Related: IoT Hardware