The Linux family of operating systems powers a large chunk of the Internet of Things, including a number of development boards like the Beaglebone, Raspberry Pi, Intel Edison and others that make it easy to build connected products.
Managing and updating software once those devices are out in the wild is a different story, though, as most casual users aren't even familiar with the desktop versions of Linux — much less with the command line. For developers who need to keep the devices in their project up-to-date after deployment, there's Resin.io.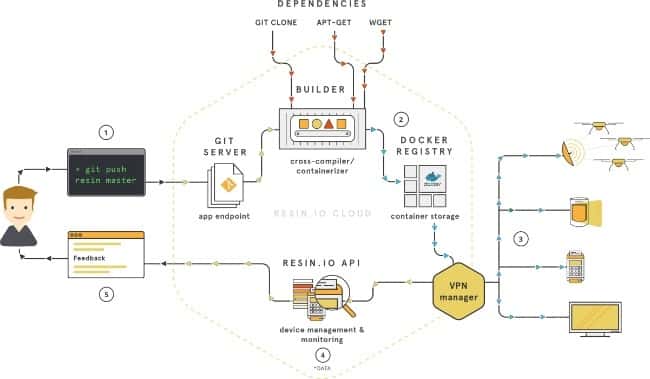 The Resin.io platform automates the process of pushing over-the-air software updates using Docker containers (A full technical overview can be found here). Each time a developer submits a new version of the code, Resin.io's cloud makes sure that the application is compiled properly for each device's hardware, and that each device receives any dependencies — software from other sources, like drivers or software libraries — that it needs to run the new app.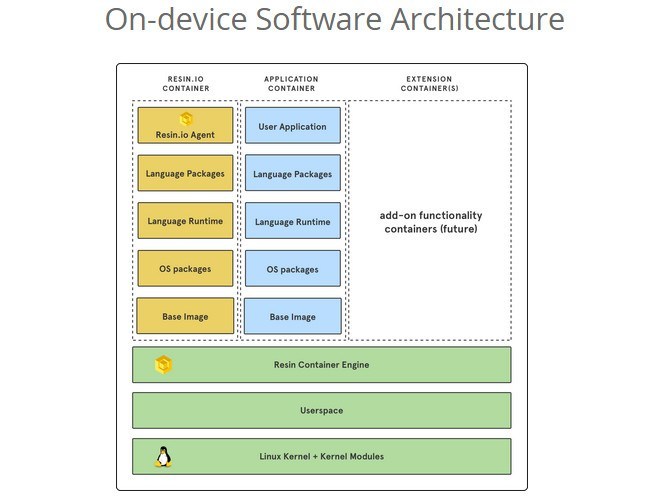 An online dashboard presents developers with information on each device in their fleet, and offers easy fleet-wide management of things like API keys, which might need to be revoked if a particular device is reported stolen.
For companies in the smart home, retail, industry, and other markets, the ability to quickly and efficiently push out new software is important not only to satisfy users who want bug fixes and new features, but also to ensure the security of the devices themselves. With the IoT spawning billions of devices and reaching into areas of life that were never networked before, the need to find and patch vulnerabilities is becoming more important than ever. Containers for embedded devices looks to be a continued area of innovation in this area.
For developers with small projects (up to 5 devices), Resin.io is free to use and experiment with. Larger projects carry subscription plans scaling up to tens or even hundreds of thousands of devices. Supported hardware currently includes various Raspberry Pi models, Beaglebone Black, Intel Edison and the Parallella Board.
Dive into the documentation, or learn more in the video below .
Additional: The IoT Singularity: Docker for Internet of Things Devices
Related: IoT Protyping Hardware, Ubuntu Snappy Core