ARM mbed is the chipmaker's development platform for the Internet of Things. Released last year, it includes a free operating system that can be embedded in devices, a server framework for handling device connections, and a set of tools for software devices.
It's all tailored to ARM's Cortex-M line of microcontroller chips, which put an emphasis on minimizing power consumption and wireless connectivity, and have become popular in smartwatches and wearables.
Running on that foundation, the mbed OS provides features like a diverse wireless protocol stack (including Bluetooth low energy, cellular, ethernet, Thread, WiFi, Zigbee, and 6LoWPAN), end-to-end security, and support for open standards. Developers can write apps for mbed OS using C++, using both command-line and web-based development tools.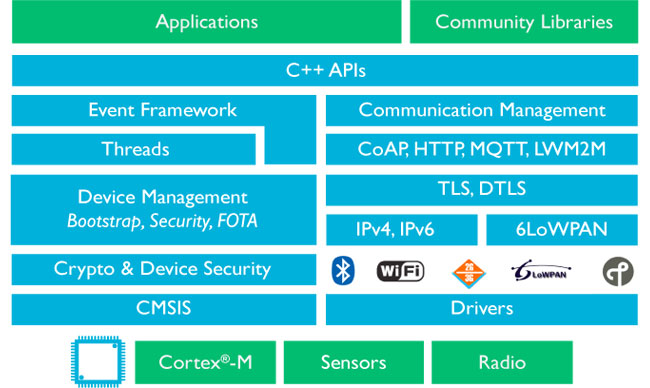 Mbed Device Server manages connections between multiple devices, and between devices and apps or cloud services. It supports a wide variety of open-source protocols for transmitting data, and provides a Rest API to make that data accessible to the rest of the Internet.
ARM is leveraging a large developer community and well-connected partner network to build support for mbed. The ecosystem includes giants from across the worlds of embedded computing and cloud services like IBM, Ericsson, Atmel, Freescale, Telefonica and Salesforce.
A full 3.0 release of the platform is expected at ARM's Techcon in October of this year.
Learn more at mbed.org, on their developer site or in the video below.
Related: IoT Software Guide,Mbed Starter Kit, IPSO Smart Objects