Flutter is a new long range development platform based on Arduino that is looking to provide Makers with an inexpensive and reliable wireless technology to get their projects going just a little bit further than they have been with typical Bluetooth, Zigbee and WiFi solutions.
Developers Taylor Alexander and Katelynn Cusanelli created Flutter to be used without a router and achieve a range of up to 1000 meters (transmitted in the 915 Mhz range) for use in projects as diverse as monitoring remote temperature sensors, to controlling quadcopters and RC cars.
Do you need to receive data from even longer distances? Using mesh networking the platform can be scaled to use thousands of Flutter devices to extend the operating range and open up new types of project options. Getting connected to each board is as simple as configuring the device using a USB from your computer or by using the projects add-on shields (Wifi & Ethernet or Bluetooth) and a mobile app for authentication using your phone.
Security is also a focal point for Flutter's creators. Every Flutter device will have a unique 72-bit serial number and has Atmel's ATSHA204 cryptographic chip on-board to hold up to sixteen 256-bit encryption keys while adding an additional layer of data and device protection.
The team is releasing the project under an open source license (from schematics, to the firmware and mobile app) and is launching with two flavors of Flutter: a $20 Basic version with integrated antenna, and a $30 Pro model that adds battery charging and a professional screw mount antenna.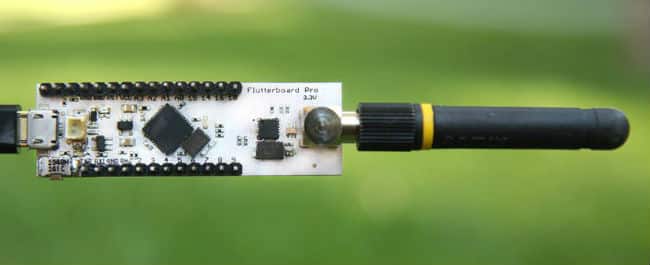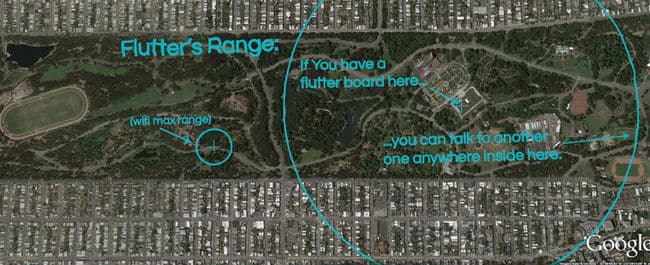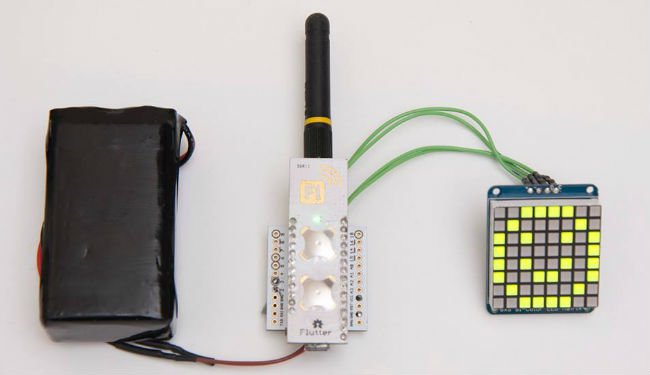 To see some sample projects in action, or for additional details on the platform visit: Flutterwireless.com.
Additional: HackerNews Thread
Related: Spark, JeeNode, IoT Prototyping Hardware