Domino.IO is an open-source Wi-Fi development board with plenty of modular add-ons. The central Core board runs a version of Linux, and comes in two other versions: Domino Qi, which is Arduino-compatible; and Domino Pi, which despite the name is not related to Raspberry Pi but is a similarly extendable, affordable Linux computer.
Domino Core provides Wi-Fi connectivity and processing power with a Qualcomm/Atheros AR9331 system-on-a-chip. Domino Pi adds to that by exposing input and output pins on solderless headers, along with a number of extra components like a more robust power supply and several LEDs. Modular "tiles" can be attached to add even more features, such as USB ports, audio inputs, Ethernet jacks and more LEDs.
The other version, Domino Qi, also starts with the Core components, plus an Atmel ATMega32U4 MCU and a set of hardware and software libraries to form a bridge between the Core and the Arduino ecosystem, making it a derivative of the Arduino Yùn. When plugged into an optional baseboard, the Qi is compatible with all of the standard Arduino shield add-ons.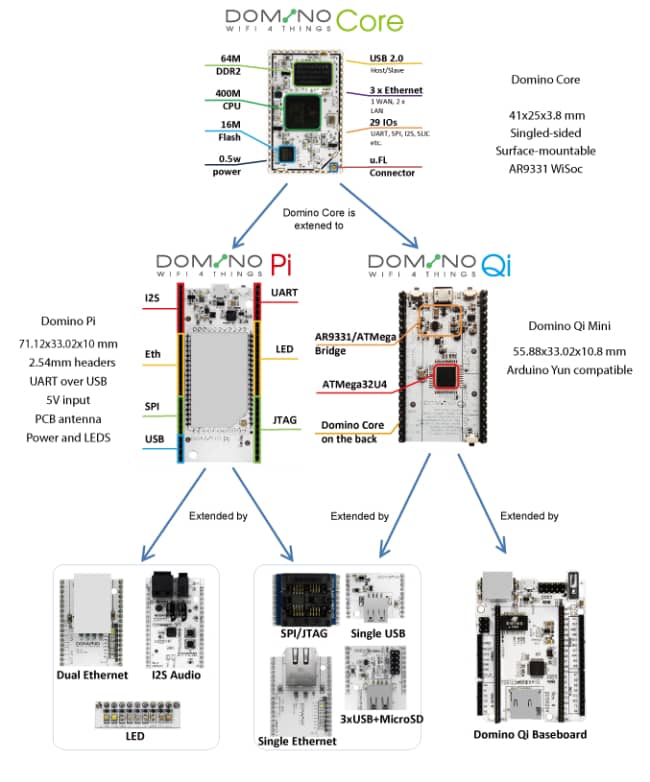 Giving developers flexibility is a major goal of the Domino team when it comes to programming languages and cloud services. Users aren't tied to any particular language, development environment, or cloud platform for writing code and handling the data generated from projects powered by Domino. They've also followed through on their promise to make Domino an open-source project by releasing the hardware designs on GitHub at the end of April.
Domino boards and kits can be ordered on Kickstarter through May 13, and an aggressive timeline is planned that could see shipping begin by the end of the month. "We took our time to design Domino and to make sure that all our prototypes work perfectly before launching," the team wrote at its campaign page. "Now, we have everything ready and will be able to launch production and ship all orders quickly." Learn more in the video below.
Related: IoT Prototyping Hardware