The Open Interconnect Consortium, announced earlier this month, brings together powerhouse chip and electronics manufacturers to collaborate on an open specification for interoperability on the Internet of Things. Backers include Atmel, Broadcom, Dell, Intel, Samsung and Wind River.
With the number of networking and communications protocols in the IoT space seeming to increase almost as fast as IoT products themselves, everyone is concerned with making it easier for those products and protocols to talk to each other. OIC's goal is to create standards that will allow home computers, mobile devices, and smart appliances to work together regardless of brand, operating system, or other details.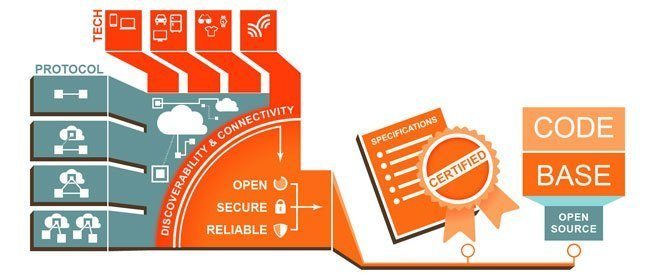 The group will begin with home and office solutions, and eventually branch out to industry, healthcare, and automotive sectors. OIC will release an open-source implementation of its specification, and will offer testing and certification for products and software that adopt it.
Additional notes from the orgainzation about their plans include:
OIC specifications will "utilize both existing and emerging standards like Wi-Fi, Bluetooth, Wi-Fi Direct, Zigbee, Zwave, Ant+."
The framework should include a "consistent implementation of identity, authentication and security across the modes of User ID, Enterprise / Industrial ID & Credentials."
If you are looking for a more complete list of current IoT Standards and the organizations behind them visit our IoT Toolkit here to get started.
Related: IoT Organizations, IoT Protocols