Sapphire OS is a new wireless development platform created and manufactured by a team out of Austin,Texas.
The Sapphire platform is 100% open source (hardware schematics and layouts under a CC license) and combines "flexible low cost hardware, a lightweight but powerful embedded operating system, and network connectivity tools to help you connect anything to everything."
Breaking the individual components down a little bit the system features:
Blue Sapphire hardware:
ATMega128RFA1 combined microcontroller with a built-in 2.4 GHz radio
8 digital inputs/outputs and 8 analog inputs
Launching with 3 development add-on shields (Ethernet, Multiboard (LED, temp, light, button), and Protoboard)
Operating System:
Can create a mesh network.
Connect with Python, REST, or with your own API.
Automatic Sapphire device discovery.
Time synchronization and AES security built-in.
Network:
"Sapphire comes with a variety of Python based connectivity tools which connect the key-value system to an extensible central message bus. The device server connects your hardware to the bus. The Automaton helps you script interactions between anything connected to the bus. A RESTful API server provides a convenient interface for web applications."
Chromatron light control, a smoke alarm that sends your phone notification alerts, and a distributedtemperature sensing system that sends its data to Cosm for tracking and display.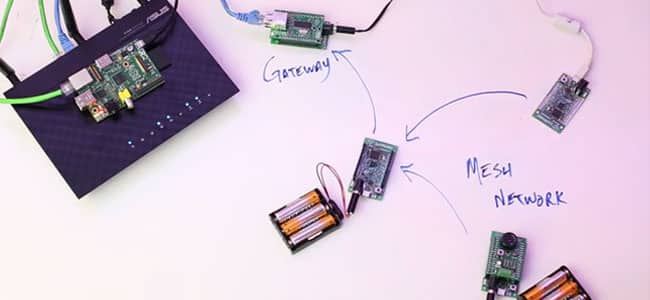 More details about the platform can be found at: Sapphireos.com or by watching the team's product pitch in the video embedded below.
Additional: Kickstarter page, Github
Related: Spark Devices, IoT Development hardware

Via: @Silona