Cubit is an Internet of Things prototyping platform that combines simple plug-and-play hardware with intuitive drag-and-drop programming. As the creators at Qfusion Labs put it: "If you can make a flowchart, you can create a program" for your Cubit project.
A Cubit kit consists of a controller, several peripheral components that can be plugged into it, and the Cubit Workshop software for creating programs on a computer (Mac, Windows or Linux). The peripherals, which Qfusion calls "smartwares", include everything from buttons and buzzers to screens, sensors and servos—all the inputs, outputs and gizmos your projects can take advantage of.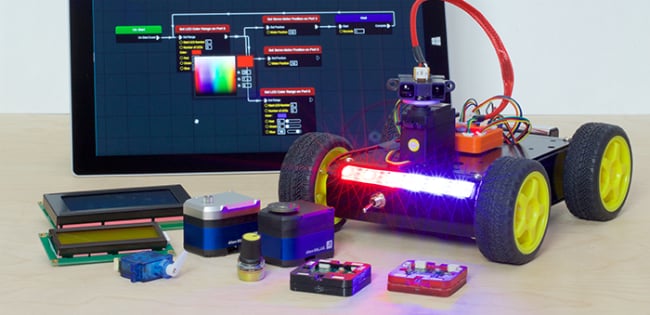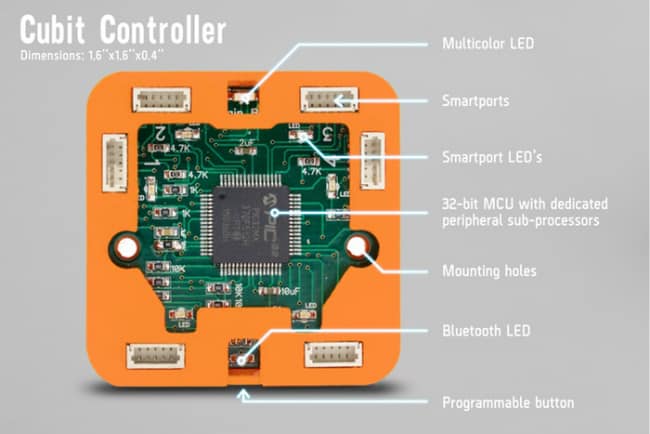 Creating a program in Cubit Workshop really is a lot like building a flowchart. First, connect the peripherals you need to the Cubit Controller, and connect the controller to a computer wirelessly over Bluetooth or via a USB cable. The Workshop software will recognize all of the components and show you blocky icons representing pre-built chunks of code for controlling them. Then you can grab the blocks you need, fill in a few variables, and connect the pieces together in a logical sequence.
Behind the user-friendly graphical interface, Cubit programs are written in Lua, a common cross-platform scripting language. Advanced users can dig into the code directly, and can even wire up their own custom smartwares and create new bits of code for controlling them in the Workshop.
Qfusion is raising funds for Cubit on Kickstarter through June 15, and plans to ship its first kits in January 2016. To learn more, have a look at the video below.
Related: Flotilla, IoT Prototyping Hardware