Online companies have been using web analytics for years to analyze how long a visitor stays on their site and what they clicked on. The concept is now being extended to the real world via a wide range of sensor systems, machine learning and image recognition technologies that enable building owners, real estate agents and store managers to better understand pedestrian and vehicular activity patterns throughout the day and year.
Last week we profiled a router device by Libelium that uses cell phone data emissions to identify user data & traffic patterns down to what operating system the person is using on their phone as they walk by. This week we look at Motionloft, a startup out of San Francisco that is taking a slightly different approach that has already analyzed over 50 million vehicles and pedestrians via sensor networks deployed in New York and San Francisco.
According to Motionloft CEO Jon Mills in Fastco the Motionloft system uses a 5″ x 5″ low power (11 watts) sensor system that attaches to the front of a building to send real-time data back to their servers. Anonymity of a passer-by is protected by the device not transmitting any imagery or video back to the service to be analyzed. Eventually the company wants to integrate weather data into its tools as well as create more comprehensive reports that can drill down to specific makes and models of cars, their speeds, or even determine if a person is riding a bicycle.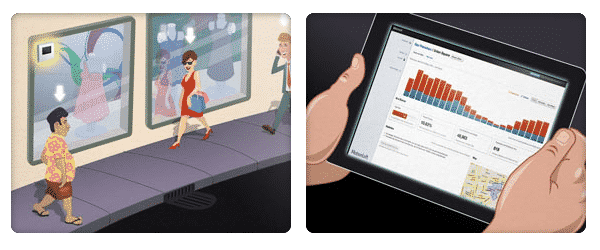 Currently the service offers two plans, one targeted at real estate brokers that are looking for information on a general area or neighborhood and the other focused specifically on property owners who want data for a particular address.
A video is embedded below of a restreraunt owner describing how they have used the analytic reports to give you a little better taste of how this can be used in real life or you can learn more about the service by following @motionloft or by visiting http://www.motionloft.com/
Additional Coverage: FastCo, CRE Geek
Image Credits: Motionloft