Snappy Ubuntu Core is a version of the popular open-source operating system designed with the Internet of Things in mind. At its heart is a feature called "transactional updates", a modular way of updating apps and the OS — which may not sound sexy, but is appealing to developers and helps keep the software running smoothly and stably.
Core was released in December and overseen by Canonical, the company that is ultimately responsible for the official Ubuntu distributions. Like all "flavors" of Ubuntu, it derives from a common lineage in the Linux family of operating systems. Core's specific development grew out of efforts to create a version of Ubuntu suitable for smartphones, and that influenced the new OS in several ways.
For one, it's small. As the name implies, the OS has been stripped down to include only the core components that will be needed just about anywhere it's installed (Ubuntu Core requires a 600 mhz processor with 128 MB RAM and supports ARMv7 and X86-64 architectures).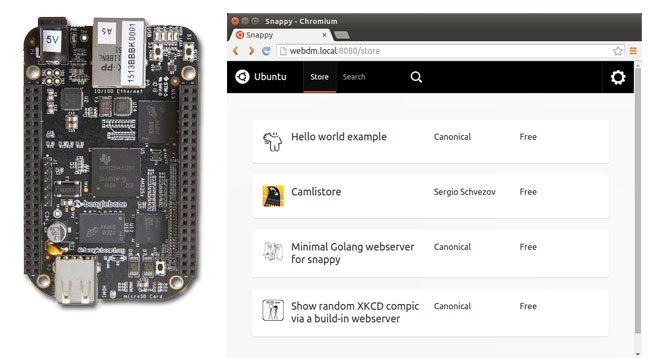 That brings us to the second distinguishing factor: Core is modular. Different parts of the OS, and any apps, are kept completely separate from each other. This has a few advantages, not least of which is security; if one app gets corrupted, it can't affect anything else. Another is the transactional updating scheme, which makes it easy to compare software versions across devices, ensure compatibility, and roll back updates if they don't act the way a user expects or wants. (Canonical calls these updates "snappy", hence the OS name.)
Those advantages are especially appealing to Internet of Things developers, who have to manage software updates across massive numbers of devices. IoT products also have limitations on the amount of internal memory and processing power they carry, so a lightweight and modular OS is a boon. Lastly, Core is suitable for use in the cloud, so devices and servers can share a platform for app development and distribution.
Core is currently supported by a wide array of hardware and software partners, including; NinjaBlocks Sphere, OwnCloud, Erle-Copter, and a number of single-board computers like the Udoo and BeagleBone Black.

Learn more about how Ubuntu Core works with the Internet of Things at ubuntu.com/things or in the videos below.
Related: Windows 10 IoT, IoT Software