Following on from a recent successful crowdfunded campaign Portland based Digistump is at it again with their new development board DigiX.
With a $59 starting point and an impressive feature set the DigiX is trying to outshine its competition as the go-to Arduino compatible development board for your next project. Embedded low power WiFi (b/g/n) and nRF24L01-based mesh networking drive connectivity for the board. Some other notable specs for the system include:
99 I/O Pins
4x UARTs, 2x I2C, SPI, CAN Bus, 2x DAC, JTAG, DMA
Real-Time Clock
84 MHz Clock Speed – 32-bit ARM Processor (AT91SAM3X8E)
Optional Level Shifting Shield – 3.3-5v converter
The DigiX works with all the existing Arduino Due code, is being released under an open source hardware license, and will also include a set of libraries for some popular IoT platforms like ThingSpeak, Xively, etc out of the box.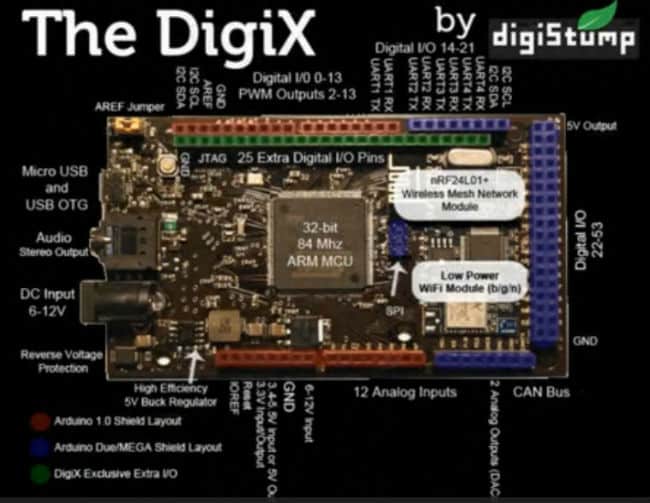 You can watch the team's product pitch in the video embedded below, or view more detailed specs for the board at Digistump.com.
Additional: Kickstarter Page, Make

Related: IoT Hardware, UDOO, RadioBlocks