The Onion Omega is a new development board for prototyping Internet of Things products, and it combines many of the best features of existing boards like Arduino, Raspberry Pi, and Spark Core.
At just one inch by two, the Omega is significantly smaller than several of those competitors. The base unit includes a 400MHz Atheros processor, 16MB flash memory, 64MB of RAM, and a Wi-Fi module — but to save space, it lacks user-friendly inputs and outputs. For access to more than bare pin connectors, you'll have to snap the Omega onto a "dock" board that provides a USB port, power supply port, LEDs and pushbuttons. A different version of the dock is configured to attach Arduino "shield" modules, and Omega has its own similar set of stackable add-ons for attaching Ethernet ports, relay switches, LED screens and servos.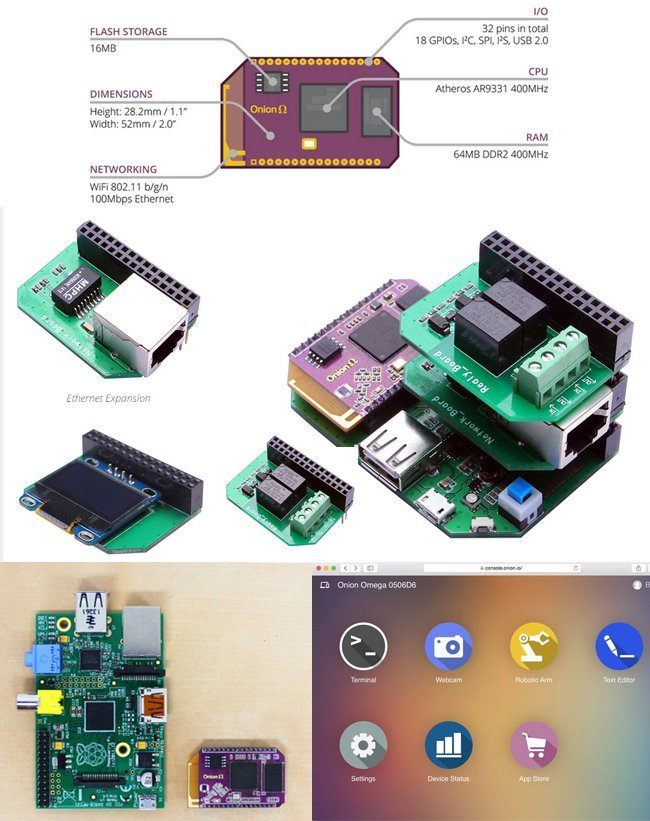 Omega is designed to run Linux, and Onion will be maintaining its own distribution based on the OpenWRT fork, which is designed for embedded devices. Onion is also offering a variety of hardware-agnostic cloud services (free for non-commercial use) and a web-based console for managing apps and firmware upgrades in much the same way as users add programs to iOS or Android devices. The whole project, from hardware to system software to an API-compatible version of the Onion Cloud, will be released as open source materials.
Onion is raising funds to produce Omega on Kickstarter. The campaign runs through May 5 and the first boards should ship in October.
Visit the LiveLab section of Onion's website to see examples of what Omega can do.
Additional: Project Github

Related: IoT Prototyping Hardware,