London-based BeeLine, a minimalist navigation device for urban bikers, seems plucked straight from the design fictions of the U.K.'s Future Cities Catapult. Instead of porting the car-centric turn-by-turn navigation of a road map over to bicycles, BeeLine reduces wayfinding to a simple homing beacon — letting bike riders choose their own route toward their destination.
The weatherproof, USB-rechargeable device straps to the handlebars, where its backlit e-paper display is visible at a glance in daylight or darkness. It relies on a Bluetooth connection with a smartphone to get GPS data. Tell your phone where you're headed, and the device will display a simple arrow pointing toward your destination, and the distance remaining till you get there.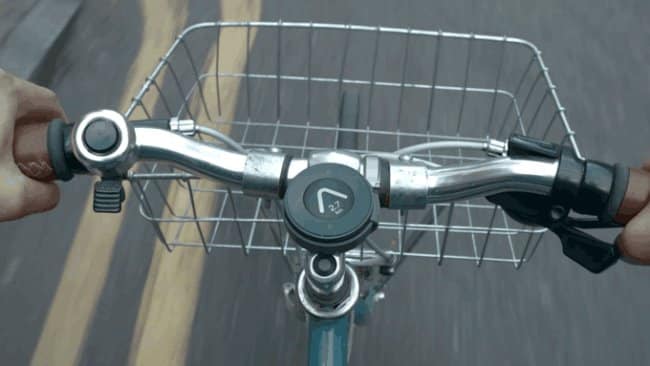 Exactly how you get there is up to you, and that's the beauty of it. Despite the best efforts of Google and others, turn-by-turn biking directions still haven't captured the nuances of the urban landscape that city bikers are familiar with. Cyclists have the freedom to use roads, paths, sidewalks, parking lots, back alleys, parks, and other byways that aren't captured in traditional mapping apps. And even if they were, navigating between these off-road alternatives often involves quick transitions that a turn-by-turn GPS device would struggle to keep up with.
By stepping back from a prescribed route, BeeLine trusts that riders will be able to assess the options and make better decisions than an app ever could — whether that means choosing routes that feel safer, avoiding major roads in favor of scenery, taking favorite shortcuts, or quickly detouring around traffic and other unexpected obstacles.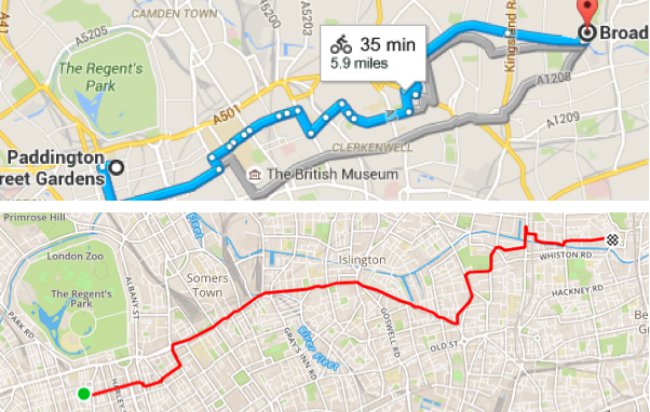 In real-world tests, BeeLine's designers have found that this "fuzzy navigation" often shaves significant distance off of Google Maps' biking directions. Getting lost and having to backtrack is still possible, of course, but that's also part of the fun of exploring a city by bicycle. And when riders know they need to reach certain landmarks along the way, like crossing a river at a specific bridge, they can add waypoints ahead of time.
Depending on user feedback, future updates to the device could include social features, integration with fitness trackers, and even (begrudgingly) turn-by-turn directions.
BeeLine is on Kickstarter through Nov. 27, with plans to ship in summer 2016. But it's not alone: There are actually several crowdfunded bike navigation devices in the works right now. One of them, another London-based product called Haize, is on Kickstarter through Dec. 8 and will also ship next summer. Haize uses LEDs for compass-based wayfinding, and offers turn-by-turn directions and other features. Then there's SmartHalo, a smart bike light that gives turn-by-turn directions and provides an anti-theft alarm, which was was funded last month and is expected to go into production in the spring.
Related: Connected Cycle, Copenhagen Wheel, Fobo Bike, MindRider, Valour, Smart Bike Locks