BitLock is a new keyless bike lock controlled by your smartphone that also lets you start your own private bike-sharing network.
Developed by Mehrdad Majzoobi and his San Francisco based Mesh Motion team, the BitLock system uses Bluetooth and your smartphone to recognize and authenticate when you're within range of the lock (typically three feet or so), and from there you simply push a button to detach the lock and start your ride.
The Bitlock uses your phone's GPS and an app to mark the location you last locked your bike while also tracking detailed statistics on your travel speed, route, elevation, and the amount of CO2 you saved while riding. The lock has an expected lifespan of five years (10,000 lock cycles) and is powered by a 2.4Ah Lithium thionyl chloride (Li-SOCl2) battery.
An additional feature of the lock is its ability for you to share the location of your bike and grant access to it for anyone you wish. This feature enables communities to set their own local bike share system at a very low cost while still retaining personalized policies such as available access times and geographic areas the bike should be returned to.
The new peer-to-peer model makes bike sharing more democratic by allowing communities and individuals to start their own bike-sharing program on their terms. Virtual docking stations can be created instead of physical docking stations to manage bike distribution.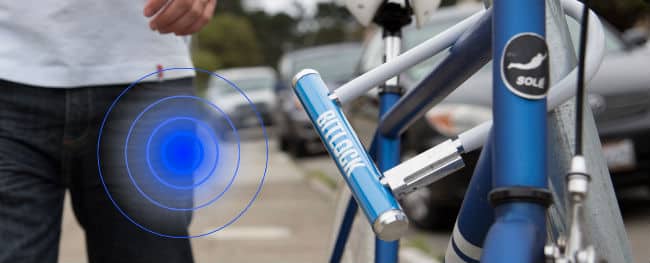 More details about the lock and its social sharing features can be found at: Bitlock.co

Additional: GPS Bike Trackers, Helios, BikeSpike

Related: MeshMotion, SoBi