One of the first technologies humanity created was the clay pot for storing food. And aside from new materials like glass and plastic, it hasn't changed much over the eons. You put food in; you take food out; rinse and repeat.
But as is the way of all technologies these days, even something as simple as a jar can be revolutionized by the Internet of Things. The result is Neo, a smart jar that knows what and how much it contains, and puts the knowledge to good use.
Essentially, it's a dishwasher-safe and BPA-free plastic container attached to a base that contains a small, Bluetooth-connected scale. Use the mobile app to scan a barcode or type in the name of whatever foodstuff you're filling it with — Neo will weigh the contents, calculate macronutrients, and note the "best by" date. Then it will take note of how quickly you use the ingredient, provide alerts if it's in danger of spoiling or running low, and even order more through Amazon or other online retailers.
As if a jar that refills itself wasn't impressive enough, the app has a number of other handy features. One is nutrient tracking, which tells you how many calories and how much of each macronutrient (carbs, fat, cholesterol, protein, sugar, sodium) you've just added to your dinner, and can sync with fitness apps. Neo also provides an online recipe library that can suggest dishes based on what's in your smart jars, and lets you share recipes of your own. It can also convert recipe proportions depending on how many people you're feeding, or simply based on how much of a particular ingredient you have left.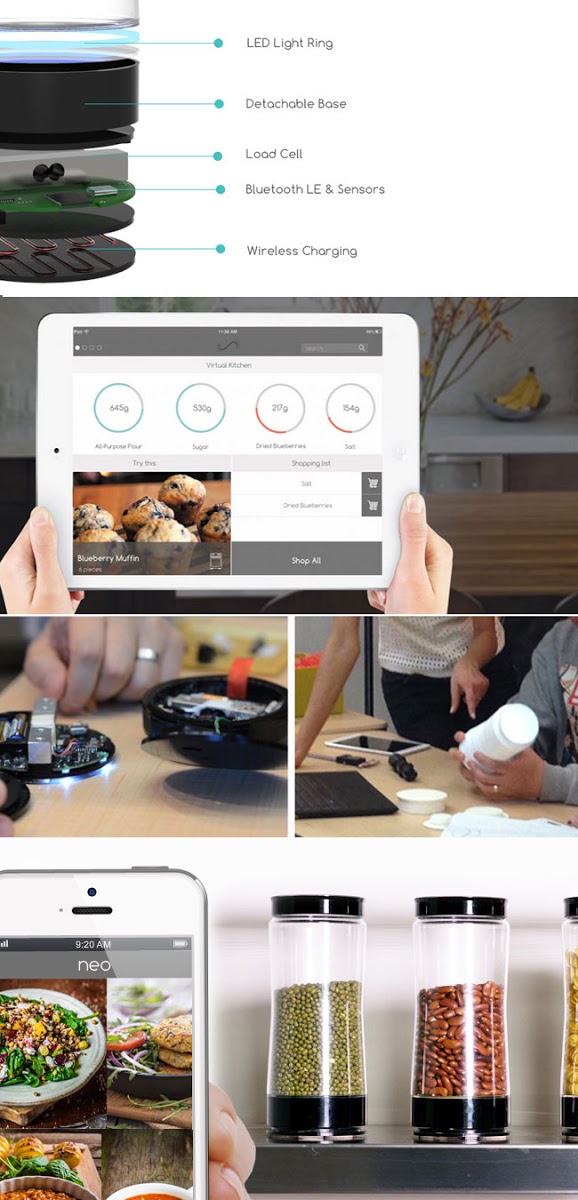 All that adds up to a lot more than simple food storage, and makes paying $50 for a place to keep the flour seem downright reasonable. At least some people think so — Neo's flexible-funding Indiegogo campaign has already raised more than $30,000. It continues through March 22, and the jars should begin shipping in November.
Learn more at skelabs.com, or by watching the video below.
Related: Smart Cooking Devices,TellSpec