The bicycle may be the one piece of sports equipment best suited to the Internet of Things—it's mobile, and offers plenty of data points to capture mapping routes, integrate with fitness apps, while tracking the quality of roads, air and other environmental variables. Connected bike accessories already include everything from Bluetooth bike locks to helmets that map riders' stress levels, so it's about time that somebody built IoT technology right into the frame.
Toronto startup Vanhawks set out to build a high-end connected bicycle for urban riders, and ended up with more than 820,000 CAD ($655,000) in Kickstarter funding last year. Yesterday TechCrunch reported that the company has raised an additional $1.6 million in seed funding to support the final push to get its bikes into production.
The Valour bike is built around a lightweight carbon-fiber frame, reinforced with organic-looking internal walls modeled on the structure of bones. With a minimalist aesthetic, ergonomic grips, seat and pedals and a sleek matte finish in black, white and red, it's a striking piece of machinery.
Equally impressive are the sensors and electronics embedded in the frame, where they are protected against shocks and weather. The lineup includes a GPS receiver, a nine-axis motion sensor (combining an accelerometer, gyroscope, and magnet), LED turn signals, ultrasonic blind-spot detectors, and modules for Wi-Fi Direct and Bluetooth Low Energy connections. The battery charges fully with an hour of riding thanks to a dynamo on the front wheel, lasts for a week, and goes into a "deep sleep" mode to preserve the charge when the bike goes into storage.
Pairing the bike with a smartphone enables route mapping and fitness data, of course, but also advanced features sure to appeal to city cyclists. Anti-theft measures using the GPS reciever, LEDs set into the handlebars indicate upcoming turns while keeping eyes on the road. The motion sensor allows detection of potholes and elevation changes (a.k.a. "hills"), which are reported and incorporated into the app's suggested routes in the future.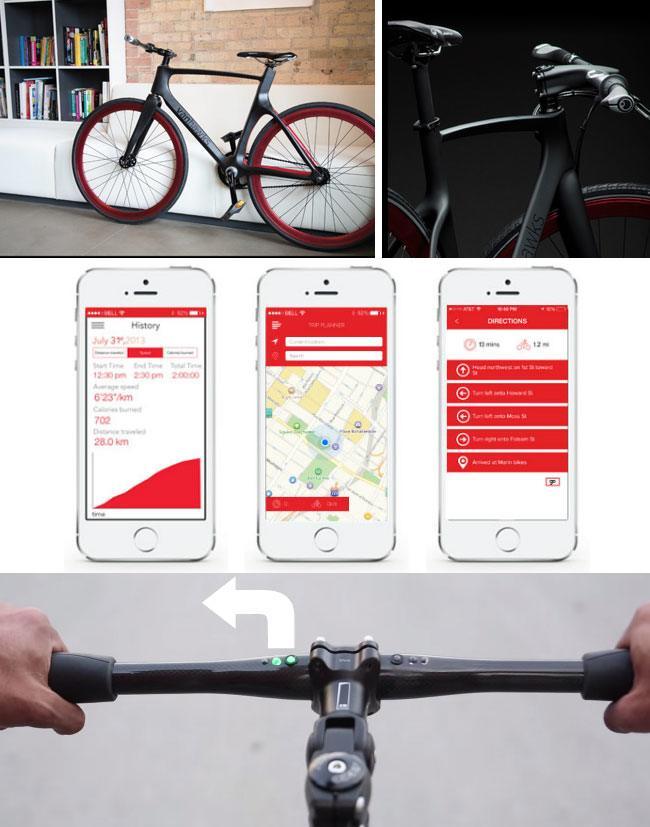 Crowd-sourcing the data draws on the other advantage bikes bring to the IoT in many cities: a large and/or growing community of avid and enthusiastic cyclists. The more users Vanhawks can put on the road, the more data it will have for optimizing routes—and the more it can collaborate with city planners and other groups and agencies to improve conditions for riders. Potholes could be reported to road crews in real-time; advocacy groups could lobby for adding or improving bike lanes on popular commuter routes; and lost or stolen bikes can be more easily located with the Valour's Wi-Fi Direct module, which lets a missing bike find other Valours passing by and ask their riders' phones to report its location.
The Valour is a good example of how the right mix of sensors and connectivity can improve things both for individual users of a product, and for a community that adopts the technology at the right scale. Cycling is a hobby that lends itself easily to quantification and mobile networking, so advances in smart biking could pave the way for future uses of embedded sensors and crowd-sourced data in other areas of urban life.
Vanhawks will begin shipping the Valour this spring, and bikes can be preordered at Vanhawks.com.
Learn more in the video below.
Related: Copenhagen Wheel, MindRider, Smart Bike Locks