Devices that automatically add groceries to a cloud-hosted shopping list are a small but growing category of Internet of Things products, but GeniCan is the first one that lives in the garbage. It recognizes items as you throw them away, which ensures you'll replenish the pantry during your next trip to the grocery store.
GeniCan perches on the lip of the trash bin. To use it, just hold an item in front of the scanner for a fraction of a second. If it has a barcode, GeniCan will look up the product automatically and chime happily. Otherwise it will ask, "What may I add to your list?" and listen for a response. The paired mobile app will be updated immediately.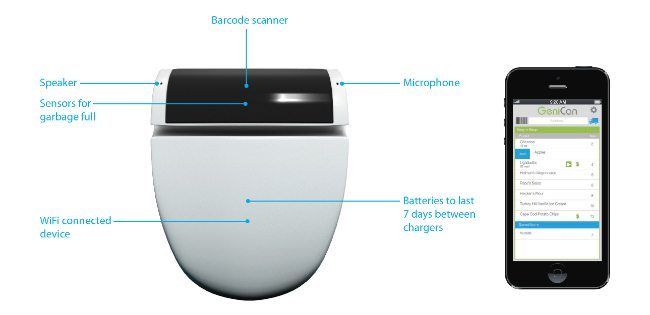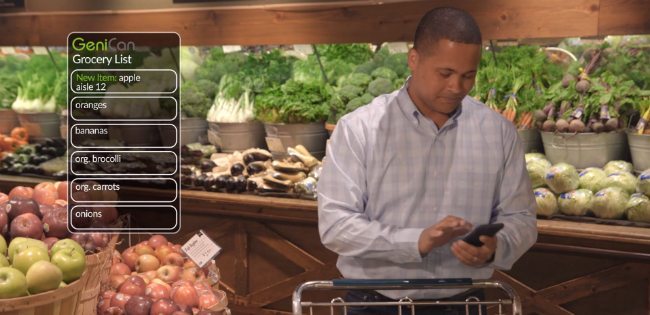 The app supports multiple users, and a single list can be tied to multiple GeniCans (perhaps one for trash and another for recycling). It can also suggest digital coupons that match the barcodes on your list, or remove the need to go shopping all together by ordering items from one of several partnered grocery delivery services. Another nice feature is that GeniCan will remind users to empty the bin when it gets full.
Internal batteries let GeniCan operate for about a week on a charge, depending on how often it's used. It can also be plugged into an outlet for a constant power supply. The device connects over Wi-Fi.
While the small savings of money and time that GeniCan offers are nice, there's something uncannily consumeristic about a garbage can that can order groceries—it's essentially closing its own loop on the cycle of consumption and disposability. But the need for users to pause before dropping an item into the trash might create a welcome change of habit by making consumers more mindful of what they're tossing away. And there's a lot of potential for a product like GeniCan to encourage behavioral changes more aggressively, such as rebuking users who put recyclable containers in the trash or applying "gamification" metrics to reward households that reduce the amount of refuse they generate. The creators wouldn't say whether features like those are planned at this stage, however.
GeniCan is raising funds on Indiegogo through May 31, and shipping is set for September. Check out the video below to learn more.
Related: Hiku, Amazon Dash, BinCam, Smart Trash