With an increasing number of cars today being integrated with advanced air pressure sensors built into their tires to save on gas mileage and wear and tear on the rubber it was only a matter of time before bicycles followed suit.
The BTPS Bike Tire Pressure System is the creation of a two man Swiss and American team that wants to give you another data point to analyze for your long rides. The system measures your bicycle tire pressure from a range of zero to 12 bars (174 psi) and wirelessly transmits the pressure data in real time to your bike computer or smartphone or connected watch via either a Bluetooth 4.0 or ANT+ module.
The unit has a battery that should last somewhere over 200 hours of riding time and more than 20,000 hours of standby time. It does this in part by staying in sleep mode until the device detects movement via it's pressure sensor.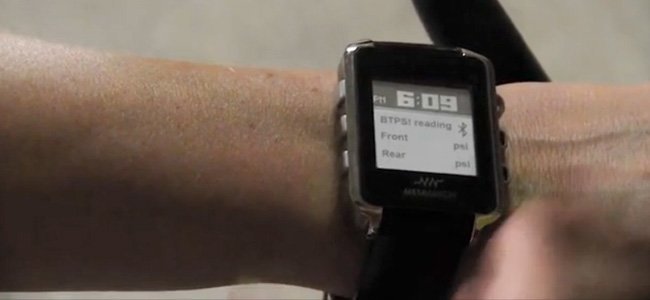 If your bike has a tubeless tire, the device is mounted on the rim tape. If your bike has tubes then the team is manufacturing pre-assembled units where the sensor comes attached to the tube like a patch.
More details about the device can be found at: Ibtps.ch